Home
---
Part 1
Nocera Inferiore
---
Part 2
Castellammare di Stabia
---
Part 3 - Brooklyn
Frank & Elizabeth
----------
Giuseppe & Petronilla
----------
Ciro & Louisa
----------
Carmela & Catello LaMura
----------
Salvatore & Maria
---
Lanzara Ancestral Chart
----------
Bonifacio Ancestral Chart
----------
Lanzaro Ancestral Chart
Giuseppe
----------
Lanzaro Ancestral Chart
Francesco
----------
LaMura Ancestral Chart

---
Cemeteries
---
Causes of Death
---
Photos
---
Documents
---
Email Me
WINANS FAMILY HISTORY

Last update 7/17/2020
The Parents Of Evelyn Winans Lanzaro (1907-1993)

Jonathan Dayton Winans was born November 18, 1880 in Cranford NJ. Louise Sophie Anderson was born February 5, 1886 in Perth Amboy, NJ, the daughter of Frederick Anderson and Elizabeth Pierson.

Frederick Anderson was born June 1858 in Norway, arriving in America in 1872. Elizabeth Pierson, his wife, or Lizzie as she was called by family members, was born in Denmark in February of 1858. She was four months older than Frederick. She arrived in America in 1881. A year later, Frederick and Lizzie were married in New Jersey. They lived in Piscataway where Frederick worked as a farmer. Besides Louise, the other children were her older brother Edward Anderson, born 1882, sister Dora Anderson in 1888, brothers Henry Anderson 1889, Howard Anderson 1890, William Anderson 1895, and another sister, Edna Anderson, born 1897. By then, Frederick had become a naturalized citizen.

Jonathan and Louise were married on July 18, 1906, at the First Presbyterian Church, located at 1028 Broad Street in Newark. It was in Newark where Evelyn Winans was born nine months later on April 28, 1907.

After Evelynís birth, the family, who had been living at 282 Orange Street in Newark, moved to Scranton, Pennsylvania where Jonathan worked as a clerk at the Scranton Railroad Station. They lived in a house at 1411 Monsey Avenue. Jonathan was a tall, slender man with brown hair and eyes.

Between 1910 1nd 1915, four more children were born in Scranton. They were Louise Sophia Winans, born September 9, 1909; another Jonathan Dayton Winans, born May 20, 1911; Russell P. Winans, born November 17, 1913; and William McKinley Winans, born February 15, 1915.

Nearly two years after Russell's birth, Louise was less than six months into her next pregnancy when she gave birth prematurely to a boy on December 3, 1916. He lasted only one day. He was buried at Stratford Cemetery in Scranton. You would be hard-pressed to locate the grave today, even if it had a marker, which I doubt. The cemetery was abandoned years ago and is now completely overgrown and difficult to navigate.

Less than two years after that baby's death, the family moved back to New Jersey, in the Freneau section of Matawan. At the time, Evelyn was 11, Louise (daughter) was 8, Jonathan (son) 7, Russell 4, and William 3. Again, Jonathan Sr. found work as a Railroad clerk, this time with the Central Railroad of New Jersey at its office in Jersey City.

On April 12, 1923, Marion Ruth Winans was born at their home at 16 Mill Road in Freneau.

On November 6, 1927, 2 weeks before his 47th birthday, Jonathan Dayton Sr. died at the home on Mill Road. He had been suffering from Tuberculosis for two years. He was buried at Old Tennent Cemetery. His wife Louise was 41 at the time. Evelyn was 20. It was one year after her marriage to Joe Lanzaro. Louise (daughter) was 17, Jonathan Dayton Jr. was 16, Russell almost 14, William 12, and Marion 4.

Louise continued to live at the home on Mill Road with her children through the early 1930's. Daughter Louise worked as a clerk for the New York Railroad Company. Young Jonathan was a grocery clerk, while Russell worked on a farm. By 1935, they had moved to 241 Main Street in Matawan.

By 1940, Louise worked as a housekeeper at the State Hospital in Marlboro, New Jersey, earning $1200 per year. Jonathan was 38 and still single, and the owner of a grocery store in Matawan. 18-yr-old Marion, after graduating from Matawan High School, worked as a secretary for a real estate agency making $110 per year. Like his mother, Jonathan did not attend High School.

Sometime after 1940, Louise married someone named Hines. They lived in Belleville. She belonged to the Fewsmith Memorial Presbyterian Church in Belleville. On Feb 8, 1963 at the age of 77, Louise died. She is buried next to her first husband Jonathan at Old Tennent Cemetery.



The Children of Jonathan Dayton Winans and Louise Anderson

As we already know, Evelyn Winans married Joseph Lanzaro in 1928. For the extensive story of their lives together and their children, go back to the CIRO & LOUISE page.



__________________________________________________________


Jonathan and Louise's second child, Louise S. Winans, married Ernest E. Weaver on June 2, 1934 at Freehold Presbyterian Church. Ernest was born in 1908 in Canaan, Connecticut, the son of Wallace Weaver and Rachel Cudney. He was either living or working at Marlboro State Hospital in Marlboro at time of the wedding. He completed two years of high school, while Louise, like her mother, her sister Eleanor and brother Jonathan, never went beyond the 8th grade. By 1935 Louise and Ernest were renting a home at 6 West Front Street in Keyport for $25 per month. By 1940, Ernest was working in a grocery store, earning $884 per year. Louise was a typist in a freight office, earning $1500 per year.

Jonathan Dayton Winans Jr. married Catherine Tierney sometime between 1946 and 1950. Catherine was born in 1908 in Girardville, Pennsylvania but lived most of her life in Union Beach, New Jersey. Her parents were Martin Tierney and Sarah Bell. Catherine was previously married to John Fallon, a bus driver. Both married at 18 in 1926.

Catherine and John Fallon lived in Union Beach. They had two daughters and a son, Margaret Fallon, Patricia Fallon and John Fallon Jr. By 1940 Catherine and the kids were living with her parents, Martin and Belle Tierney in Union Beach. John was living with his mother in Matawan. Although living apart, they both listed themselves on the 1940 Federal Census as married.

At this same time, 38-year-old Jonathan was still single and living with his mother and sister Marion in Matawan. He enlisted with the Army during World War Two, serving from 1942 to 1946. He stood 5 feet, 10 inches tall and weighed about 180 pounds. How and when he met and married Catherine is unknown. But, they were married by 1950 and living at 216 Morningside Avenue in Union Beach when Catherineís daughter Patricia married. Jonathan was now manager for a supermarket meat department.

Catherine was a Member of the American Legion Auxiliary and Democratic Club of Union Beach. She died August 15, 1967 at Riverview Hospital at the age of 59. She is buried at Fair View Cemetery in Middletown. In 1991, Jonathan retired to Florida. He may have remarried, to a woman named Lois. He died in St. Petersburg Florida at the age of 89 on April 28, 2000. Although I do not have any record that he and Catherine had any children, his obituary states he had a daughter named Deborah Mack and a stepdaughter named Dawn Carr.



__________________________________________________________


Jonathan and Louise's third child, Russell Theodore Roosevelt Winans, married Frances Emma Cook on August 16, 1939 at the First Methodist Church in Lakewood, New Jersey. She was 18, he was 25. Russellís mother was living at 241 Main Street in Matawan at the time. Frances was born in Clarksburg, New Jersey on May 23, 1921, the daughter of Harrison (Harry) Cook and Anna (Mina) Perrine. At the time of the wedding, however, Frances was living practically next door to Russell and his mother, at 260 Main Street.

Russell had a garage on Middlesex Road in Matawan, possibly where Matawan Auto is located today. Initially, he and Frances lived in a bungalow near the garage. They attended the First Presbyterian Church in Matawan. They were the parents of Delite Winans, born April 3, 1941.

They were still living on Middlesex Road when Frances died on March 7, 1944 at Riverview Hospital. She died while they were operating on her to remove an abdominal obstruction. She was only 22 years old and four months pregnant. She is buried at Old Tennent Cemetery. Delite was almost 3 years old at the time.

By 1954, Russell had moved to Florida. It was there that he remarried, to Wilma Raines, who already had a daughter Phyllis by a previous marriage. Their first home was in Riviera Beach. Eventually, they moved to Lake Ochopee in Florida.

In 1964, Delite was 23 years old and living and working in Norfolk, Virginia as a dental nurse when she married 20-year-old Linwood Earl Ballance on November 16, 1964. Born in Norfolk, Linwood was a driver-salesman for Pepsi-Cola vending machines. His father was Jarvis Lee Ballance and Marjorie Louise Brown. Delite moved in with Linwood at his home at 8246 Danbury Drive in Norfolk. The marriage quickly unraveled and Delite left Linwood three months later. When the divorce was finalized on November 22, 1966, Delite was unemployed and living at 28433 Joy Road, Lot 64, in Garden City, Michigan.

Russell and Wilma moved from Florida to Lake Lure, North Carolina in 1972. On May 10, 1978, Russell died at the age of 64 at their home in Lake Lure. According to his obituary, Delite was 37 and single and living in Matawan at the time of his death.



__________________________________________________________


William McKinley Winans, the fourth child born to Jonathan and Louise, was only 21 years old and living at the family home on 16 Mill Road in Freneau when he died, on March 31, 1936, at Monmouth Memorial Hospital in Long Branch, from Spinal Meningitis. He was buried at Old Tennent Cemetery. William McKinley Lanzaro, who was born nearly three years later, was named after him.



__________________________________________________________


The last child was Marion Ruth Winans. She married Leroy (Roy) Davenport Jr. around 1958. They lived in Belleville until moving to Matawan in 1960. Belleville is a town east of the Garden State Parkway, between East Orange and Lyndhurst. After moving to Matawan, Marion was a bank teller for the Matawan Bank, which later became Central Jersey Bank & Trust. She also worked at their Wickatunk branch before retiring in 1972.

After retirement, she worked for one year as a bookkeeper for Queen of Carmel Nursing Home in Morganville. She was a member of the First Baptist Church in Matawan.

Roy was born in Newark on July 20, 1923 (3 months younger than Marion). He was an Army veteran, serving during World War 2, from 1943 to 1946. After the war, he worked as a clerk for Larter & Sons Jewelry Store, retiring in the early 1980ís. He was a Commander of the Matawan VFW, Post 6761. He was also active in the First Baptist Church in Matawan, singing in the choir called ďJenkins Menís Group." His parents were Leroy Davenport Sr. and Johanna C. Bechtoldt. He had one sister, Lillian Davenport Stoeckert, who died in 2004, and a brother, Edmund L. Davenport, who, with his wife Betty Jane, lived in Lakewood.

Marion died at Bayshore Hospital on October 9, 1996, at the age of 73. She is buried at Old Tennent Cemetery. Roy died June 27, 2005 at Victoria Health Care Center in Matawan at the age of 81. He is buried at the Brigadier General William C. Doyle Memorial Cemetery in Wrightstown, New Jersey.



Isaac Winans (1850-1929) and Anne Robinson (1858- )

Let's step back several generations, starting with the one before Jonathan Dayton Winans Sr. His parents were Isaac Winans and Anne Robinson. Isaac Winans was born December 27, 1850 in Rahway, New Jersey. His parents were (another) Jonathan Dayton Winans and Sarah A. Patterson.

Isaac was a blacksmith. Besides Jonathan, the couple had two more sons, Robert James Winans, born November 16, 1884, and Raymond David Winans, born September of 1886. Robert eventually moved to West Virginia, but no one knew what later became of Raymond.

Anne, or Annie, as she was called, was born June 17, 1858 in Rahway. Isaac married Annie on October 24, 1878.

According to the 1900 Federal Census, 40-year-old Annie was living with her sons Jonathan (19) and Robert (15) in a house on Centennial Avenue in Cranford. While she still listed herself as married, her husband Isaac was living nearby in a farm house on Centennial Avenue. Annie worked as a housekeeper for a boarding house where her other son Raymond lived as a boarder. He is only 13 at this time. Why he lives separately is unknown. Jonathan is a grocery clerk. Robert is still in school. Living with 49-year-old Isaac at his house is a married 45-year-old housekeeper named Mary Mulford. Her husband lives in another house on Centennial Avenue. His name is Lewis Mulford and he and Mary have been married 26 years.

By 1910, Annie and Isaac were living together again, on a farm on Sinacola Avenue in Cranford with their son Robert (25) and Isaacís brother John (54) and Johnís wife Matilda (50). John and Matilda had two children, now grown, but I donít know their names or gender. While John was a farmer, Isaac was a blacksmith at his own gun shop. Robert was a letter carrier for the Cranford Post Office. He was a tall man of medium build, with grey eyes and dark hair.

A few months later, Robert somehow made his way to Indiana where he married Catherine E. Jones on September 18, 1910. Catherine was born in April of 1887 in Carbon, Indiana, the daughter of Edward Jones (1855-1907) and Catherine Evans (1861-1945). Less than four years later, Catherine died on April 4, 1914. She was only 27 years old. She was buried at Calcutta Cemetery in Calcutta, Indiana. As far as I know, they did not have any children.

Two years later, Robert is working in the Post Office in Parkersburg, West Virginia. It was in Parkersburg where, on October 26, 1916, he married Blanche Edith Taylor, the daughter of Dennis M. Taylor (1858-1928) and Bettie Ann Copin (1857-1942). Blanche was born December 19, 1880 in Parkersburg. She is four years older than Robert. Her father was a policeman in Parkersburg.

Robert and Blanche had two children, a daughter named Betty Lujean Winans, born November 20, 1917, and a son, Robert James Winans, Jr. born May 1, 1924.

In 1920, Annie, who is now 60 years old, is divorced from Isaac. She runs a boarding house on Ludlow Street in Rahway. Robert, Blanche and their children lived at 1704 Beaver Street in Parkersburg, West Virginia during the 1920's. Their home was practically right next door to Blanche's family home at 1619 Beaver Street where her parents still lived.

In 1929, Isaac, divorced from Annie and living in Plainfield, New Jersey, was suffering from rheumatism and a weak heart. Just before Thanksgiving, his daughter-in-law Louise went from Freneau to Plainfield to take him back home with her. His condition weakened and he died the day after Christmas on December 26, 1929. It was also one day before his 79th birthday and two years after his son Jonathanís death. He was buried in the Winans family plot at Fairview Cemetery in Westfield New Jersey. I have not been able to find any record of Annieís death or whether she remarried.

After completing college, Betty Lujean found employment as a social worker in West Virginia. On September 10, 1944, she married Abram Allin Sharp at the First Christian Church in Parkersburg. They had two daughters, Imogene Sharp and Charlotte Ann Sharp.

Sometime between 1918 and 1942, Robert Sr. suffered the amputation of all of the fingers on his left hand. I have no idea how it happened. By 1955, he was 70 years old and suffering from kidney and heart disease. In September of that year, he suffered a heart attack. He was taken to the State Hospital in Weston, West Virginia, where he died 15 days later on October 5, 1955. He was buried at Odd Fellows Cemetery in Parkersburg, now called Parkersburg Memorial Gardens.

Blanche also suffered from heart disease. In 1959, she was confined to the Rossow Nursing Home in nearby Vienna, West Virginia. She died there four years later, on October 10, 1963 at the age of 83. She is buried at Parkersburg Memorial Gardens.

Betty Lujean was 73 when she died in Belmont, Ohio on November 7, 1991. Her husband Abram died in Kentucky on November 28, 1997, age 79.

Robert Jr. was a self-employed laborer and a member of the First Christian Church in Parkersburg. I don't know that he ever married. He died at the Eagle Pointe Nursing Home in Parkersburg on January 30, 2002, age 77. He was buried at Parkersburg Memorial Gardens.



Jonathan Dayton Winans (1813-1900) and Sarah A. Patterson (1824-1899)

Jonathan Dayton Winans was born October 9, 1813 in Rahway New Jersey. He has the distinction of having a son named Isaac Winans (1850-1929) and a father named Isaac Winans (1780-1853). Jonathan married Sarah A. Patterson in 1841. Sarah was born April 9, 1822 in either Rahway or Cranford, New Jersey.

Jonathan and Sarah had eight children, including Isaac, all born in Rahway: Firman Winans (1844-1847), Mary Winans (1846-1853), John Winans (1848-1853), another Mary Winans (1855-1908), (another Jonathan Dayton Winans (1858-1860), Phoebe Winans (1861- ), and Eliza Winans (1863- ). Firman, the first-born, was only three years old when he died in 1847. Isaac was born three years later in 1850. Then, in 1853, 7-year-old Mary and 5-year-old John died. By the time the second Mary was born in 1855, the couple's first three children were dead. The second Mary survived well into adulthood, but Jonathan Dayton died in 1860 when he was only two years old. So, out of the eight children, only four lived beyond childhood.

Jonathan was a farmer, a blacksmith and a wheelwright (a wagon and wagon wheel repairman). By 1880, they were living in Cranford. Living with them was their son Isaac and his new wife, Annie. Sarah died April 21, 1899. She is buried at Fairview Cemetery. Jonathan died May 23, 1900 from Peritonitis and an intestinal obstruction following a hernia. He is buried with Sarah at Fairview Cemetery.



Isaac Winans (1780-1853) and Phoebe Williams (1784- )

Isaac Winans, the father of Jonathan Dayton winans (1813-1900) was born in 1780 at an unincorporated section of Union County in New Jersey called Lyons Farms. Lyons Farms would eventually be absorbed into the town of Hillside, between Irvington and Elizabeth and just west of present-day Newark International Airport.

Phoebe Williams was born there in 1784. Her father was Enoch Williams. Besides Jonathan Dayton, Isaac and Phoebe had six other children: Susan Winans (1803- ), Joanna Winans, Harriet Luzette Winans, Eliza Ann Winans, Sarah Winans, and Elias Winans. Susan and Jonathan were born in Lyons Farms. I'm not sure about the dates or birthplaces of the others, but at some point the family moved to Piqua, Ohio, some 600 miles from Lyons Farms. I have no idea why they went there. I do know that Harriet and Elias were born there and that Isaac and Phoebe died there, Isaac in 1853.



Jonathan Leslie Winans (1740-1816) and Rachel Thompson (1742-1807)

Jonathan Leslie Winans, the father of Isaac Winans (1780-1853) was born July 24, 1740 in Rahway, New Jersey. Rachel Thompson was born March 28, 1742 at Lyons Farms, New Jersey. Jonathan and Rachel married in January of 1763.

Besides Isaac, they had 12 other children: Nathaniel Winans (1764-1826), Phoebe Winans (1766- ), Sarah Winans (1768-1826), Rachel Winans (1769- ), baby (1770-1770), baby (1771-1771), John Winans (1781-1833), Elizabeth Winans (1783-1858), James Winans (1785-1831), Susan Winans (1787- ), Jonathan Winans (1773- ), and baby (1787-1787).

Rachel died July 25, 1807 at Lyons Farms at the age of 65. Jonathan was 75 years old when he died on January 16, 1816.



Jonathan Winans (1710-1774) and Susanna Mills (1712-1774)

Jonathan Leslie Winans' father, Jonathan Winans, was born July 15, 1710 in Greenwich, Connecticut. His mother, Susanna Mills, was born February 11, 1707 in Long Island City, New York. Susannaís parents were Samuel Mills (1665-1733) and Mary Lyon.

Jonathan and Susanna married on May 4, 1731 in Rahway, New Jersey. Jonathan was 20 years old, Susanna 24. Besides Jonathan Leslie Winans, they had seven more children: Susannah Winans (1734-1815), Sarah "Sallie" Winans (1737-1807), Rachel Winans (1742-1807), James Winans (1744-1799), Samuel Winans (1746-1830), Isaac Winans (1750-1827), and John Winans (1751-1774).

Jonathan, Susannah and their son John all died in 1774. Susanna was 62, Jonathan 63 and John 22.



Conrad Winans (1680-1727) and Sara H. Palmer (1685-1732)

Conrad and Sara were the parents of Jonathan Winans (1710-1774). Conrad Winans was born in 1680 in Elizabethtown, New Jersey. Elizabethtown was the original name for the present-day city of Elizabeth. Sara H. Palmer was born August 1685 in Greenwich, Connecticut. Saraís parents were James Palmer (1656-1717) and Sarah Denham (1655-1723).

Conrad married Sara in 1709 in Greenwich, Connecticut. They had seven children, including Jonathan. The other children were: James Winans (1715-1795), Susanna Winans (1718-1732), Joanna Winans (1720- ), Magdalena Winans (1722-1775), Jemina Winans (1723-1733), and William Winans (1726-1826).

Several months after the birth of their last child, William, Conrad died suddenly on February 2, 1727. He was only 47 years old. Nearly five years to the day, 14-year-old Susanna died. Several months after that, Sara died, on October 10, 1732. Just like her husband, she was only 47 years old when she died. This left the children as orphans. Jonathan, the oldest, was 22 and already married to Susanna Mills. James was 17, Joanna 12, Magdalena 10, Jemina 9 (she would die the following year in 1733), and William 6.



John Winans (1640-1694) and Susannah Melyn (1643-1692)

Conrad Winans' father, John Winans, was born in 1640 in Haarlem, Noord-Holland, Netherlands, the son of Jan Wynantz (1620-1679) and Luytgen VanDen Ende (1622- ). Susannah "Sanna" Melyn was born on June 14, 1643, in Staten Island, New York, the daughter of Cornelis Melyn (1600-1663) and Janneken Adryiaens van Myert (1601-1674).

John married Sanna on August 25, 1664, in New Haven, Connecticut. They had 10 children together, including Conrad. The other children were John Winans (1665-1673), Susannah Winans (1667-1734), Elizabeth Winans (1669-1739), Samuel Winans (1671-1747), John Winans (1673-1734), Joanna Winans (1674-1674), Joanna Winans(1675-1743), Jacob Winans (1682-1722), and Isaac Winans (1684-1723).

Around 1664, John was among 80 other founders of Elizabethtown in New Jersey. However, he and Sanna continued to live in New Haven for a while. The children, from John through Samuel, were born in New Haven. John was splitting time between the two towns and sometimes brought his sons to the fledgling Elizabethtown to stay with him when he was there. It was in Elizabethtown where his 8-year-old son John died. At the time, Sanna was pregnant. When that child, another son, was born in New Haven, they named him John after the first one who had just died. By 1674, they had moved permanently to Elizabethtown. The rest of the children, including Conrad in 1680, were born in Elizabethtown.

Incidently, when the first Joanna died in 1674, they named the next child, who just happened to be a girl, Joanna.

Sanna was only 49 when she died in 1692. In a relatively short time following Sanna's death, John remarried, to 22-year-old Ann Robinson, in 1693. They had a son together, William Winans (1694-1763). Then, a few months later, John died, on December 16, 1694, in Elizabethtown. He was 54 years old and left Ann to raise the baby and four of the other children who were still under the age of 21. Years later, Ann died in Elizabethtown in 1723 at the age of 52. About this same time, her stepsons Jacob and Isaac also died.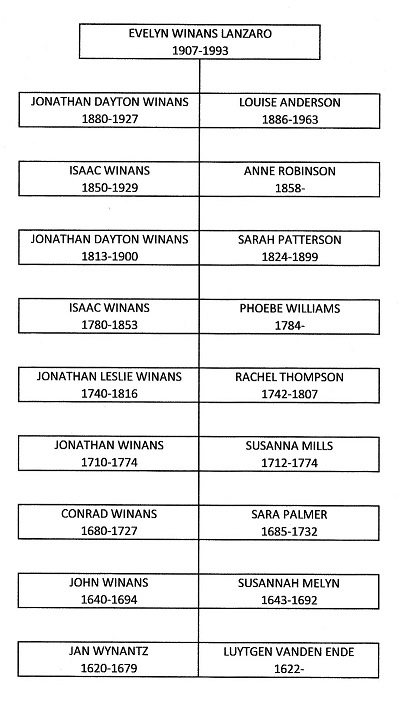 Why are so many men named Jonathan Dayton Winans in the family? There is Jonathan Dayton Winans (1813-1900) and his son Jonathan Dayton Winans (1858-1860); and Jonathan Dayton Winans (1880-1927) and his son Jonathan Dayton Winans (1911-2000). Was there a famous person with that name that the Winans families used to honor him? Or was it just passing it down through the generations, after the first Jonathan Dayton Winans (1813-1900).

After some research, I found that there was a Jonathan Dayton born in 1760 in Elizabethtown, New Jersey. Although he does not appear to be related to the Winans family, he is obviously the source of all the Jonathan Dayton Winans ancestors. He was politically and personally involved with Aaron Burr, who killed Alexander Hamilton in a duel in 1804 while Burr was Vice-President under Thomas Jefferson. As stated in the narrative above, Elizabethtown later became the city of Elizabeth, and that one of the founding fathers of Elizabethtown in 1664 was Evelynís seven-times great-grandfather, John Winans (1640-1694).

Jonathan Dayton eventually became a U.S. Congressman, U.S. Senator, and a signer of the Constitution (the youngest of the signees). During the Revolutionary War he served with his father, Elias Dayton, in the 3rd New Jersey Regiment. He saw action in battles at Brandywine Creek and Germantown, spent the winter at Valley Forge and the next summer fought at the Battle of Monmouth Courthouse near Freehold, New Jersey.

His military service made him a local hero and opened the door for a successful political career, initially serving in the New Jersey legislature. In 1791 he began the first of four terms in the House of Representatives. During the last two terms he was Speaker of the House. He was elected to the U.S. Senate and served from 1799 to 1805. Daytonís political career was damaged when in 1807 he was arrested for allegedly conspiring with Aaron Burr in illegal activities. He was never brought to trial but the "guilt by association" effectively ended any national political ambitions (President Jonathan Dayton?). He returned to New Jersey where, except for one term in the state legislature, he spent the remainder of his life away from politics, pursuing business and agricultural interests. The city of Dayton, Ohio is named in his honor.

Daytonís reputation as a local and national hero must have inspired Isaac Winans (1780-1853) to name his son after Dayton when Jonathan Dayton Winans was born in 1813.

It should also be noted that Russell Theodore Roosevelt Winans (1913-1978) was named after the president, and William Mckinley Winans (1915-1936), who was named after President William McKinley after he was assassinated in 1901. Two years after young William died in 1936 at the age of 21, William McKinley Lanzaro was born.





Back to the Top!










---

---
LANZARA-LANZARO FAMILY WEBPAGE