Home
---
Part 1
Nocera Inferiore
---
Part 2
Castellammare di Stabia
---
Part 3 - Brooklyn
Frank & Elizabeth
----------
Giuseppe & Petronilla
----------
Ciro & Louisa
----------
Carmela & Catello LaMura
----------
Salvatore & Maria
---
Lanzara Ancestral Chart
----------
Bonifacio Ancestral Chart
----------
Lanzaro Ancestral Chart
Giuseppe
----------
Lanzaro Ancestral Chart
Francesco
----------
LaMura Ancestral Chart

---
Cemeteries
---
Causes of Death
---
Photos
---
Documents
---
Email Me
LANZARA-LANZARO-LAMURA FAMILY WEBPAGE
Part 3 - Brooklyn
Salvatore and Maria Lanzaro
Last update 8/10/2020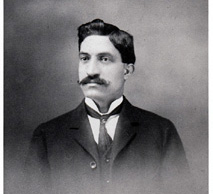 Salvatore Lanzara served in the 2nd Infantry Regiment in Italy. On the morning his outfit was shipped out to Liberia for a battle, he was too ill to accompany them and was left behind. The entire outfit was killed. He was discharged from the army as a corporal and worked in Naples as a blacksmith before emigrating to the U.S. in 1896. Sailing aboard the S.S. Fulda, the same ship that carried his mother and brother to America in 1893, 22-year-old Salvatore arrived in New York Harbor on December 10, 1896.

On June 5, 1904, 30-year-old Salvatore Lanzara (now Lanzaro) married 21 year-old Maria Bellavigna at Sacred Hearts Church, located at 35 President Place in Brooklyn. They settled in the Coney Island section of Brooklyn, at 180 West 16th Street, less than one block from the beach. By 1940, none of the homes for several blocks from the beach still existed. Maria was born December 8, 1882 in Ancona, Italy. Ancona is a coastal town in Central Italy on the Adriatic Sea. Her parents were Domenico Bellavigna and Margherita (Biaggi) Tabacchi. Maria immigrated to America with her siblings, Edmundo, Alfredo, Primo, and Segundo.

Salvatore and Maria had 3 children: Joseph S. Lanzaro, born Feb. 23, 1906, Alma M. Lanzaro, Aug. 31, 1908, and Dominick E. Lanzaro, Nov. 14, 1910. I have notes that suggest Salvatore's name was really Sabato or Salvador.

Salvatore had a Winchester rifle and used birds on a fence for target practice. The family dog would retrieve the birds.

Salvatore and Maria had their own "soda water" business, "S. LANZARO & CO., MINERAL WATERS" near their home on West 16th Street. Salvatore was also partners with his brother Ciro in another soda water business in Brooklyn called "LANZARO BROS". Salvatore got a job as a projectionist for a movie theater. He died in 1914 of influenza, when Alma was just short of her fifth birthday, and Maria's oldest brother, Edmundo Bellavigna, moved in to become the father figure in the family.

Joe grew up to marry Helen Cascone on June 18, 1933 at Our Lady of Pompei Catholic Church, 25 Carmine Street in Manhattan, New York. Helen was born in Palazzolo Acreide, Sicily on May 9, 1906. Her father, Paolo Cascone was born there on June 29, 1868, as well as her mother, Giuseppina (Josephine) Rozna, in 1880. They arrived in America in 1908. At the time of their marriage, Joe was living at 1233 72nd Street in Brooklyn, and Helen was at 1626 Bath Avenue in Brooklyn.

Joe worked as a foreman in a print shop. He and Helen had one child, Douglas Lanzaro, on March 9, 1942. Joe served in the New York Guard during World War II. He enlisted on February 9, 1942, two weeks before his 46th birthday. Although discharged exactly two years later on February 9, 1944, he reenlisted a few months later on July 22. Joseph eventually attained the rank of Captain and finally retired on November 21, 1960 at the age of 54.

Helen's mother Josephine died on December 23, 1948; her father Paolo in March of 1960, just three months short of his 92nd birthday. Both are buried in St. John's Cemetery in Middle Village, Queens.

Dominick married his first wife, Camille Colabella. She was born January 18, 1908. They also had one son, Edmond Lanzaro, born August 17, 1944. Dominick's second marriage on July 30, 1965 was to Sally M. Cecere. Sally was born September 8, 1916 in Mount Vernon, New York. Her parents were Frank Ferrara and Nuncia Cimaglia. She had two children from her first marriage: a son, Arthur, and a daughter, Dorothy.

Alma married Emory Chagnon in 1963. Emory was born May 27, 1908. About twelve years after their marriage, Emory died in February of 1975.



Historical note: Joe, Dom and Alma only married people whose last name began with the letter "C."





The rest of the story below is based on excerpts I took from an article that appeared in the July 26, 2010 issue of The Herald newspaper in Monterrey, California, about Alma and her family. Several years ago, Alma moved to California to live with her nephew, Doug Lanzaro, the son of Joe and Helen. On August 31, 2012, she turned 104 years old. Two months later, she died "peacefully and painlessly", according to Doug, on October 29, 2012.

Family was always important to the Bellavigna's. Alma recalled her mother emphasized love within the family, not only parents and siblings, but aunts, uncles and cousins.

Maria's mother, also named Maria Bellavigna (Italian for "beautiful vineyard"), moved her four children (including Alma's mother) to America in 1898 after her husband, Dominico, was lost at sea.

"After that happened, my grandmother wouldn't allow any more seamen in the family," Alma said.

Coney Island was a nice place for a childhood, she says. She remembers rides she'd take in a horse-drawn trolley car across the Brooklyn Bridge, to Manhattan, a trip that cost 3 cents in the early 1900s.

Alma got her first job at age 17 with Western Union, earning $1,000 a year. When the stock market crashed in 1929 and The Great Depression hit, she was the only person in her family with a job.

"My brothers (Joseph and Dominick), my uncle ... they were all out of work. It was a terrible time. But Western Union kept its employees because we had been trained three months for the job.

"But they made us work longer hours, and a lot of Sundays," she says. "And they cut everybody's wage by 40 percent."

Western Union's Manhattan headquarters, where she worked, was the first in the country to start selling singing telegrams, and Alma Lanzaro and two other women were America's original singers.

"It all started with birthday telegrams, then we branched out to whatever else people wanted: Happy Easter, Merry Christmas or whatever," she says. "But everything we did was to the 'Happy Birthday' music because it was the only tune that didn't require Western Union to pay any royalties."

She also sang for the troops at local USO shows, performed with The Western Union Glee Club, and was a member of her church choir in Coney Island. When she performed a singing telegram for the music director at St. Patrick's Cathedral, he invited her to join that choir.

"I probably should have joined," she says now.

Alma worked for Western Union for 38 years, retiring in 1963, the year she married Emory Chagnon at age 55.

"I met him at a dinner party some friends gave. They did it purposely, so I'd meet him, because his wife had passed away about a year before that," she says. "They introduced us, then everybody else started playing cards, but Emory kept me on the couch talking for the rest of the evening. Then he finally asked me out, and I thought, 'Ah, what harm can there be? OK, I'll go.' So we went on a date, and it seemed to take."

They were married 12 years before Emory, a diabetic, died.

Alma Chagnon returned to the work force, spending two years at an insurance office, then helped found the Bay Ridge Association of Senior Citizens to build a senior-living facility, in an upscale area of Brooklyn.

"We had a lot of trouble getting that through. I met with Mayor (John) Lindsay, Mayor (Abe) Beame, senators ... anybody who could help get us the license," she says. "And we finally got it."

That led to a 20-year career with a satellite office of New York's Department of Aging, where she prequalified seniors for food stamps, low-income housing and Medicaid.

In 2002, New York Governor George Pataki recognized her efforts by presenting her with an "Ageless Achiever Award," one of numerous similar commendations she's received in recent years.

She was born when Teddy Roosevelt was president, and remembers Woodrow Wilson, Warren G. Harding and Calvin Coolidge. She voted for Herbert Hoover, then FDR, and still votes in every election "for the politician who will do the least harm."

Alma also has a gift for artwork and has adorned her home (and many others) with gallery-quality oil paintings of landscapes, still life and portraits. She loves baseball and remembers Babe Ruth, Lou Gehrig, Joe DiMaggio and Jackie Robinson.

Her lone regret, she says, is that she got married too late in life to have children of her own, but she cherishes the time she spends with generations of nephews and nieces, including Doug's 11 grandchildren.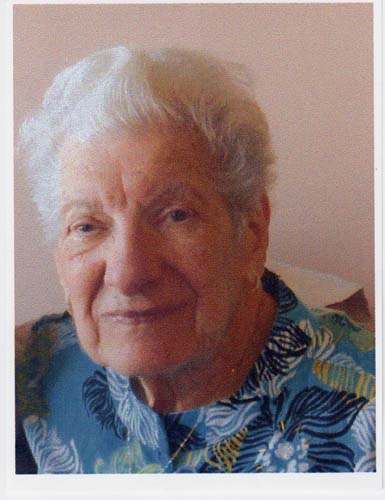 Alma on or about her 100th birthday


Maria was 78 years old when she died on Christmas Eve in 1960. She is buried in the Bellavigna family plot at Holy Cross Cemetery in Brooklyn. Emory Chagnon died in February of 1975 at the age of 66. Brothers Joseph and Dominick died within days of each other in 2000, Dominick on January 14 at the age of 89, and 93-year-old Joseph on January 17. Joseph's wife Helen passed on December 2, 1998, age 92. Dominick's wife Sally passed on October 15, 2002. She was 86 years old.

Joseph and Helen are buried at the Greenwood Cemetery in Brooklyn. Dominick and Sally are in the Cemetery of the Holy Rood on Long Island.

Here's a rather incredible story about Joseph that was printed in the March 31st issue of The Washington Times, just 10 months before his death:

A 93-YEAR-OLD FISHING CHAMP - The Maryland Department of Natural Resources has honored a Chantilly, Va., man for achieving a rare angling goal. Joseph S. Lanzaro, 93, won the All-Maryland Angler Award earlier this month for catching and entering six different trophy-size fish in a state contest. Lanzaro's award-winning entries in the 1998 Maryland Sport Fishing Tournament included a 22-inch flounder, 38-inch bluefish, 44-inch striped bass, 15-inch white perch, 16-inch spot and 20-inch croaker. Not only did Lanzaro thus qualify as an All-Maryland Angler, but his white perch and spot won the annual contest's Chesapeake Bay division for the two species. Lanzaro, a Brooklyn, N.Y., native is a retired print shop foreman. During one Patuxent River outing last year aboard the charter boat Aggie Rose, Lanzaro hooked more than 100 fish. In December, he took first place in the senior division of the Coastal Conservation Association's rockfish tournament in the Northern Neck of Virginia. Now he plans to participate in the Rod & Reel Docks striper tournament from April 30 to May 2 in Chesapeake Beach.

Back in January of 2005, Alma, then 96 years young, held an art exhibit of her paintings at the Martine Inn in Pacific Grove, California.





Back to the Top!




---

---
LANZARA-LANZARO FAMILY WEBPAGE