S.S. NEUSTRIA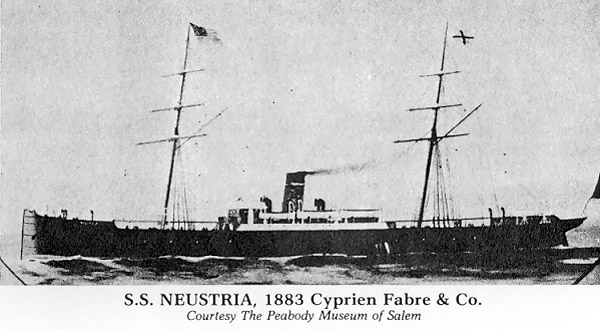 The ship that brought Giuseppe Lanzara to America in 1892.


The Neustria was a passenger ship of the French Fabre Line. Built by Claparede and Compan, Rouen, France. She was 328 feet long and 40 feet wide, with a running speed of 12 knots. The Neustria had a Compound engine and single screw. She had one funnel, two masts, with a hull made of iron.

The Neustria originated from Marseilles, France, prior to picking up passengers in Naples, Italy. The ship carried 18 first class passengers and 1,100 in steerage. In the Spanish-American War (April 25 - August 12, 1898) the Neustria was used by Spain to bring back Spanish troops from Cuba.

On October 27, 1908 she sailed from New York to Marseille and vanished without a trace. The wreck has never been found.








---

---
LANZARA-LANZARO FAMILY HISTORY