Madeline Degennaro
AKA Sister Ann Louise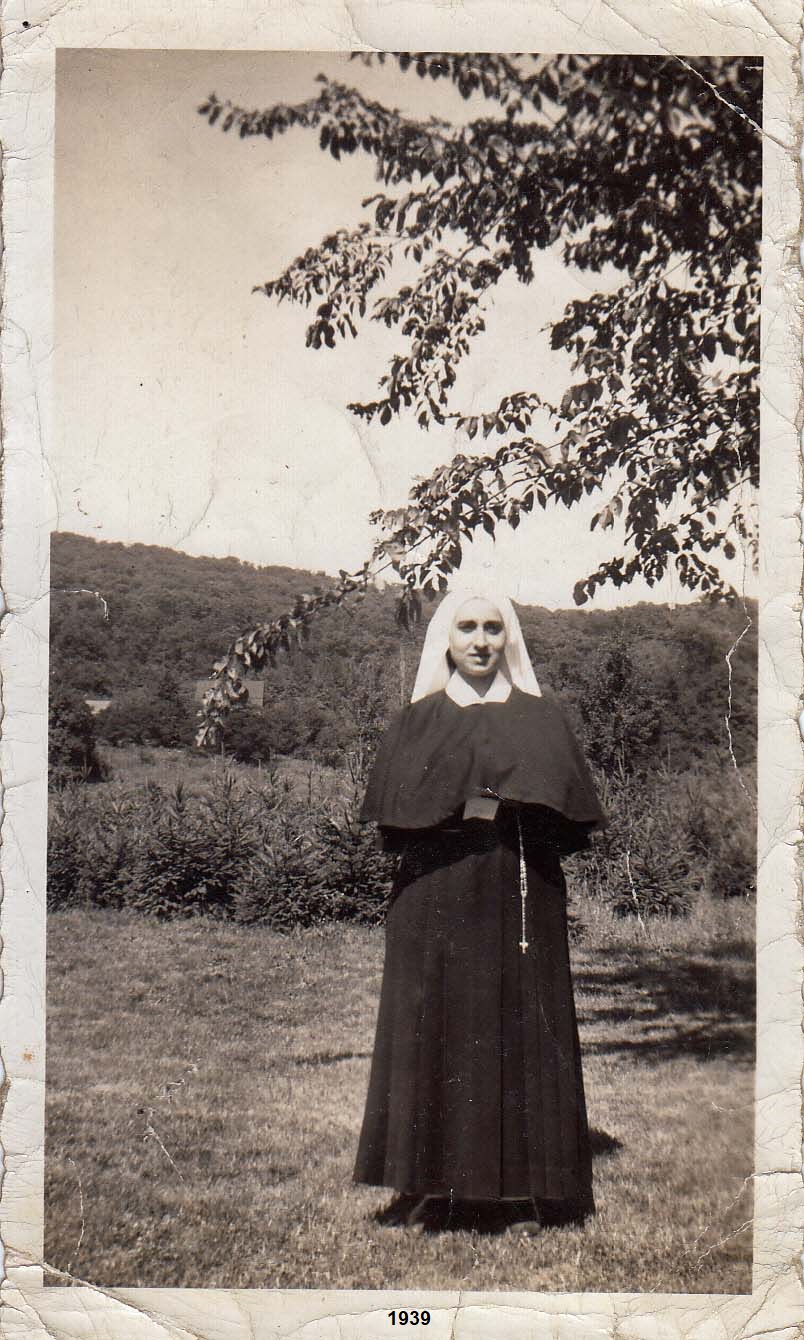 Photo courtesy Joann Silk

Madeline DeGennaro, born August 9, 1917. The self-declared "black sheep" of the family who dared
to leave the typical lifestyle to follow a vocation other than was expected of a nice Italian girl.
She joined the Dominican Convent in Sparkill, NY, in 1939, and became Sister Ann Louise.





Photo courtesy Joann Silk

There is a notation on the back of the photo that says, "Cousin Madeline 1940."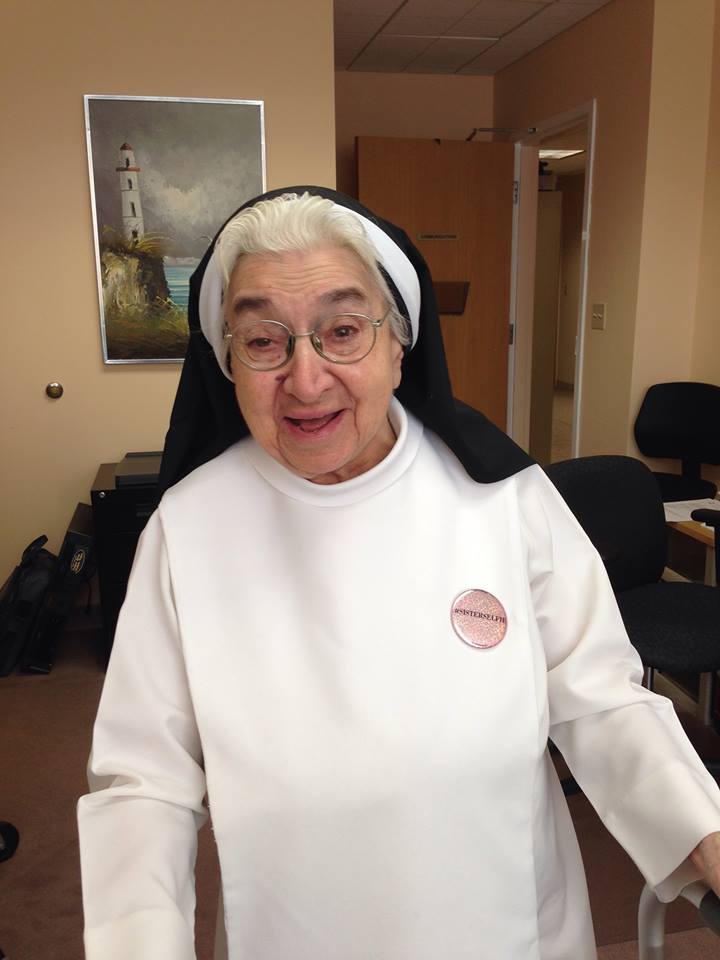 This photo was taken from the Dominican Sisters of Sparkill Facebook page, dated March 14, 2015. The notation that went with the photo: Sr. Ann Louise DeGennaro's #SisterSelfie to celebrate #NCSW! Sr. Ann Louise shares: "When I was 68 years old, I decided it was time for me to get my driver's license so that I could serve my community. So I learned to drive and became very familiar with the county and the neighboring area, eventually venturing beyond that. My life has traveled different avenues that I never would have anticipated before joining the convent! To young women considering religious life today, I would say: there are so many opportunities to serve others. As a Catholic Sister you grow individually and with your community, regardless of how you minister and where you live. At age 97, I'm still heading down different avenues!"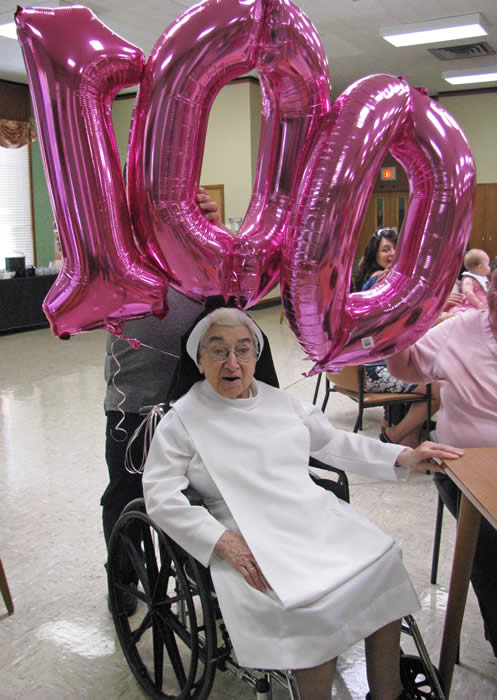 August 9, 2017 - Her 100th Birthday

From sparkill.org website




Sparkill celebrates its newest Centenarian


On August 9, 2017, Dominican Sister of Sparkill, Sister Ann Louise DeGennaro, celebrated her 100th birthday! A member of the Sparkill Congregation for 78 years, Sister Ann Louise has truly lived a life in service to others. From teaching in grade schools, to providing childcare in day nurseries, to supporting the needs of the elderly and infirm Sisters at her community's Motherhouse in Sparkill (which included getting her first driver's license at age 68 in order to help out as a volunteer), Sister Ann Louise's kindness has touched people of all ages. She has always brought an unfailing energy to her work. Her birthday celebration included a Mass followed by lunch, entertainment, and a dessert party. The Sisters, Associates, and convent staff joined Sister Ann Louise and over a dozen members of her family to mark this prestigious occasion.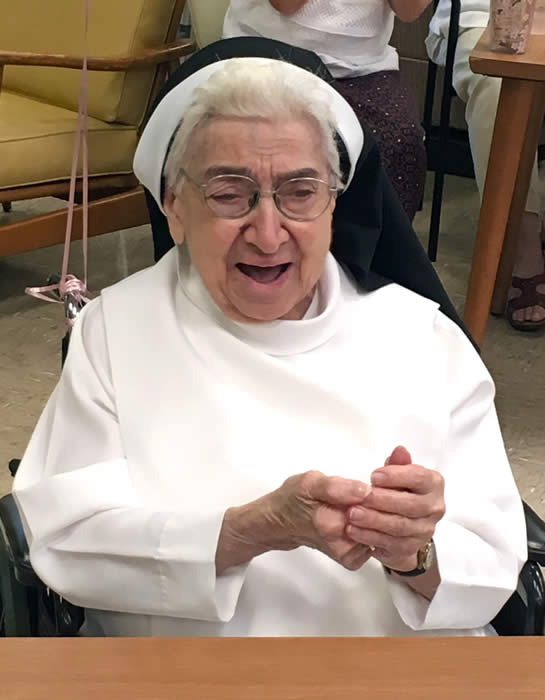 We caught up with the new centenarian to talk to her about this wonderful milestone. Thumbing through a pile of mail on her desk, she beamed with excitement over the birthday cards she had received from friends, family, and former students, sharing fond memories of each name on the return address labels. She dodged questions about herself, preferring to talk about others.

Having spent most of her active ministry teaching, it is clear that Sister Ann Louise loves two things: children and music. "I really loved teaching the first grade," she said. "The younger children are so in need of someone because everything's new to them. I enjoyed working with the little ones." She reminisced about her days of giving piano lessons and shared the pride she feels when learning that music remains a part of the lives and careers of her former students. Their successes bring her great joy.

Sister Ann Louise's friends and family describe her as extremely kind and supportive with a positive attitude and a great sense of humor. Her niece, Anne DiSalvo, who attended the celebration shared in her remarks, "My aunt is the most open-minded person I know; understanding and accepting of the world in which we live. She knows that it is not a perfect world, and although I used to think that nuns lived very sheltered lives, I have been amazed at her life experiences. We have always talked about everything and anything." But it doesn't take being her close friend or family member to see Sister Ann Louise's happy, smiling nature. When asked what makes her so cheerful every day, she said, "I don't know! I just love what I do!" At 100 years old, and having been retired from active ministry for 27 years, it is this mentality of continued service, of ongoing presence and connection to those around her, which makes Sister Ann Louise DeGennaro such an inspiring example of the life of a Religious Sister.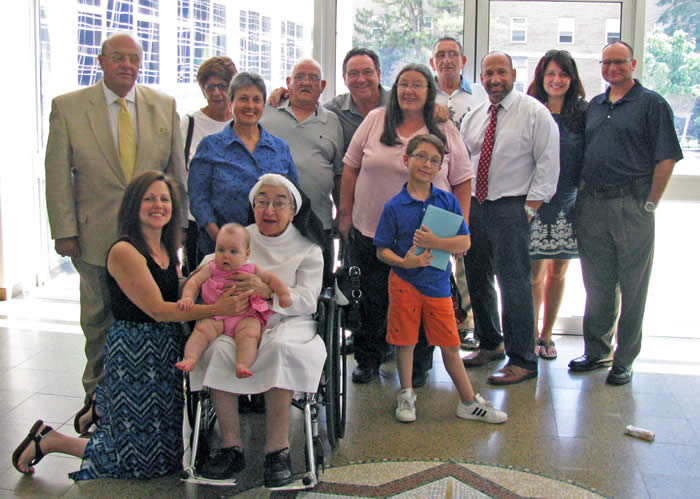 Sister Ann Louise DeGennaro poses with her family after Mass at Dominican Convent on August 9, 2017.


On March 31, 2020 at the age of 102, Sister Ann Louise DeGennaro,
passed away from natural causes during the COVID-19 Pandemic.

She was buried at the Saint Agnes Convent Cemetery in Sparkill.

The following photos are from Diane and George Williams.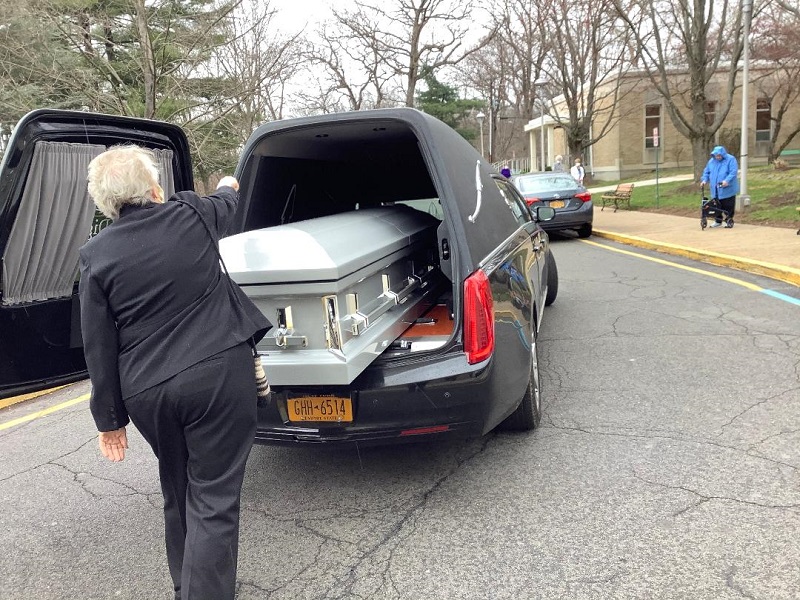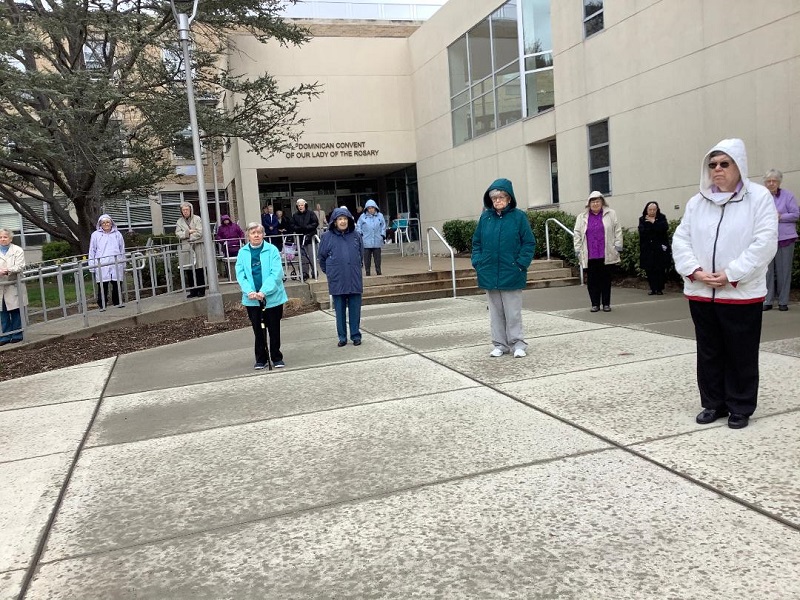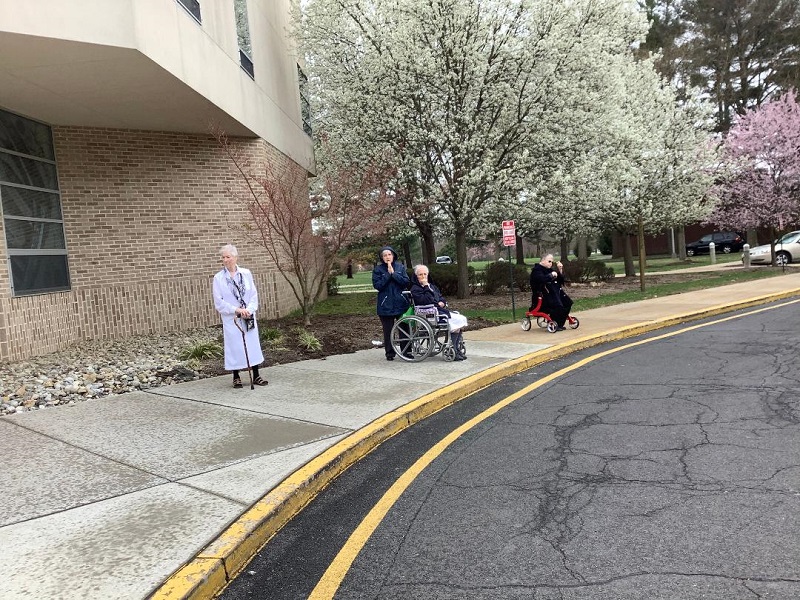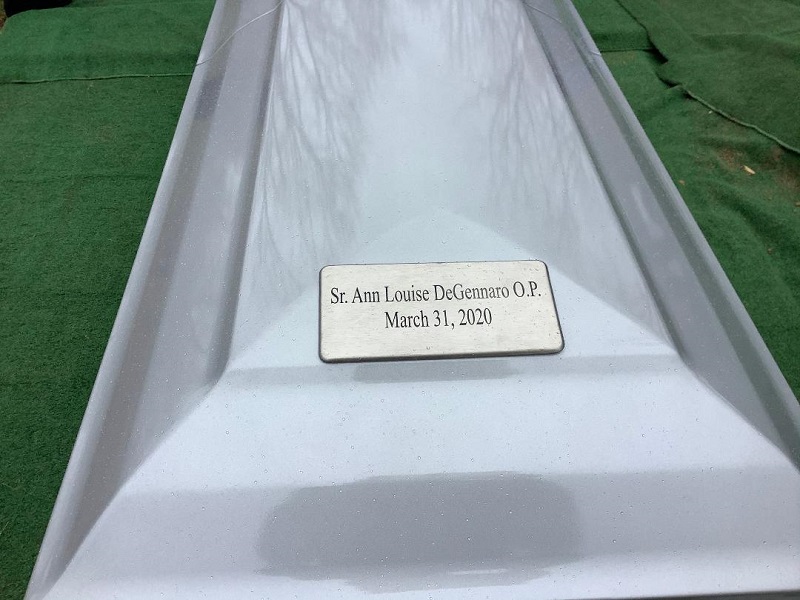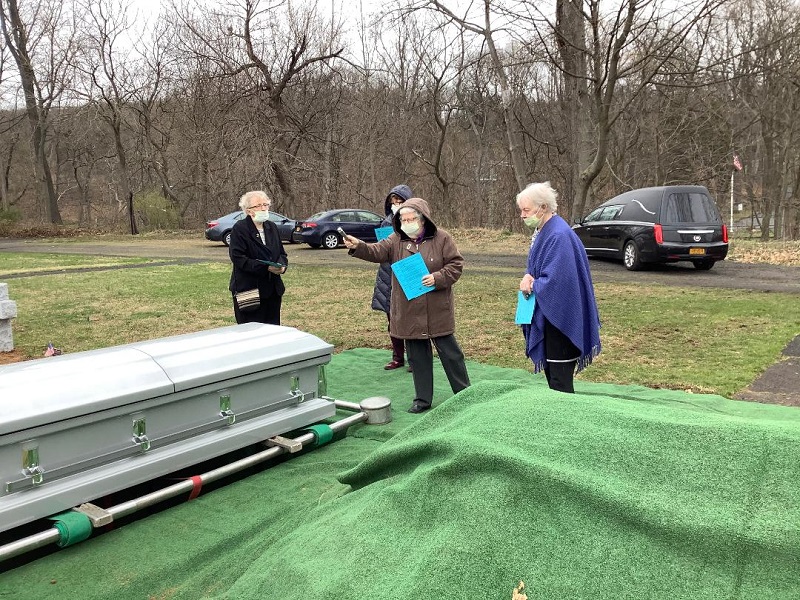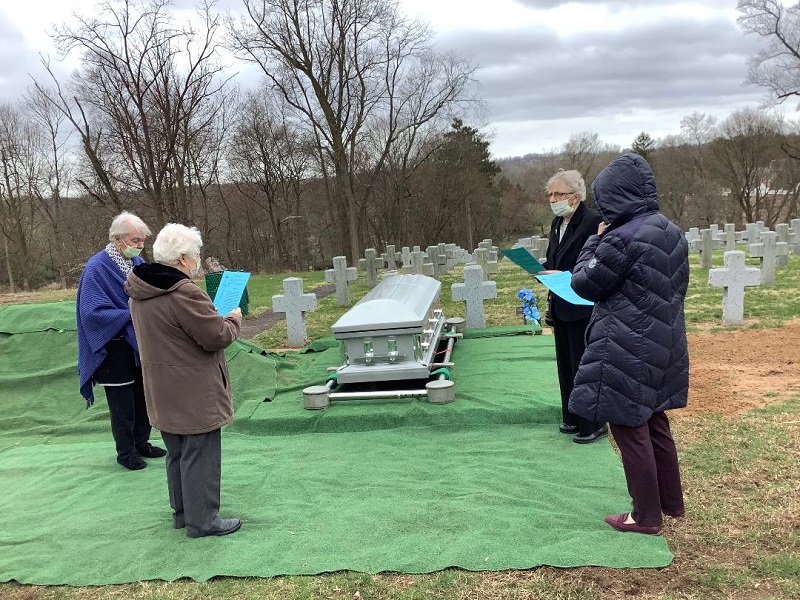 Back to the Top!
---

---
LANZARA-LANZARO FAMILY HISTORY