The LaMura Family Plot at Holy Cross Cemetery
Last update 7/14/2015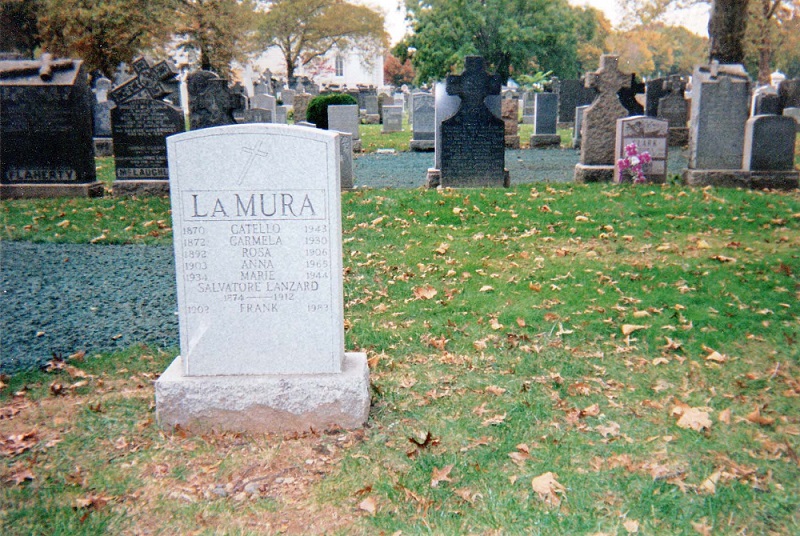 Located in Section B, Region Rg-33, Plots 112 and 113.



This is a double plot in the cemetery that actually holds 11 people (although 2 are babies), but only 7 are recorded on the headstone. The headstone sits in the middle of Plot 113, while Plot 112 is the area to the right of the headstone.

The eleven are: Catello LaMura (1867-1943), his wife Carmela Lanzaro LaMura (1869-1930), their children: Rosa LaMura (1894-1906), Frank P. LaMura (1902-1983), Michael K. LaMura (1909-1985), Marie LaMura (1934-1944; Michael's daughter), and Anna LaMura Calarino Serrao (1903-1965). In addition, there is Maria Felicia Lanzara (1842-1908; the sister of Giuseppe and Francesco Lanzara), Salvatore Lanzaro (1875-1914; Carmela LaMura's brother and husband of Maria Bellavigna), Joseph Nori (1919-1920; baby son of Adolfo Nori and Concetta LaMura), and a month-old baby named Joseph DePaula (1917-1917) whom I have not been able to identify.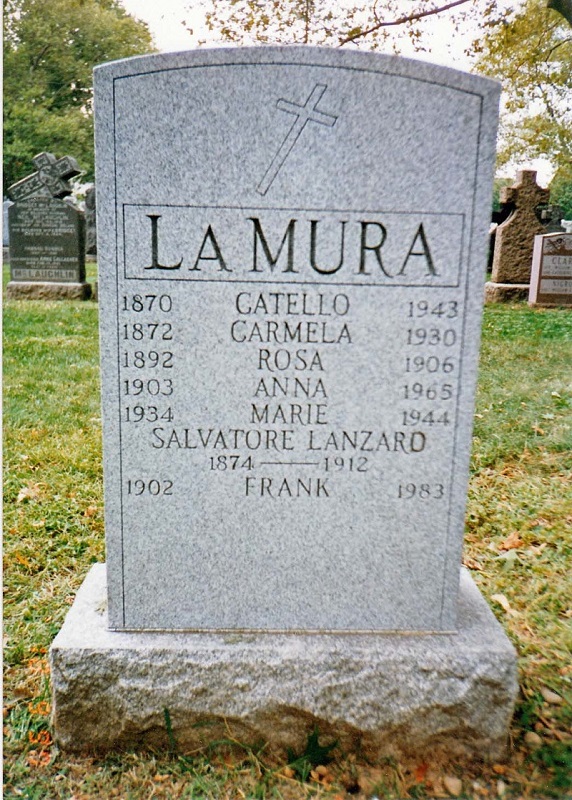 Photos taken October 1994








Note that several of the dates carved on the headstone do not agree with the dates I have posted. My dates were taken from birth and death records and from the information provided to me from the cemetery office.











---

---
LANZARA-LANZARO FAMILY HISTORY