Sallenthin and Hafenpreppach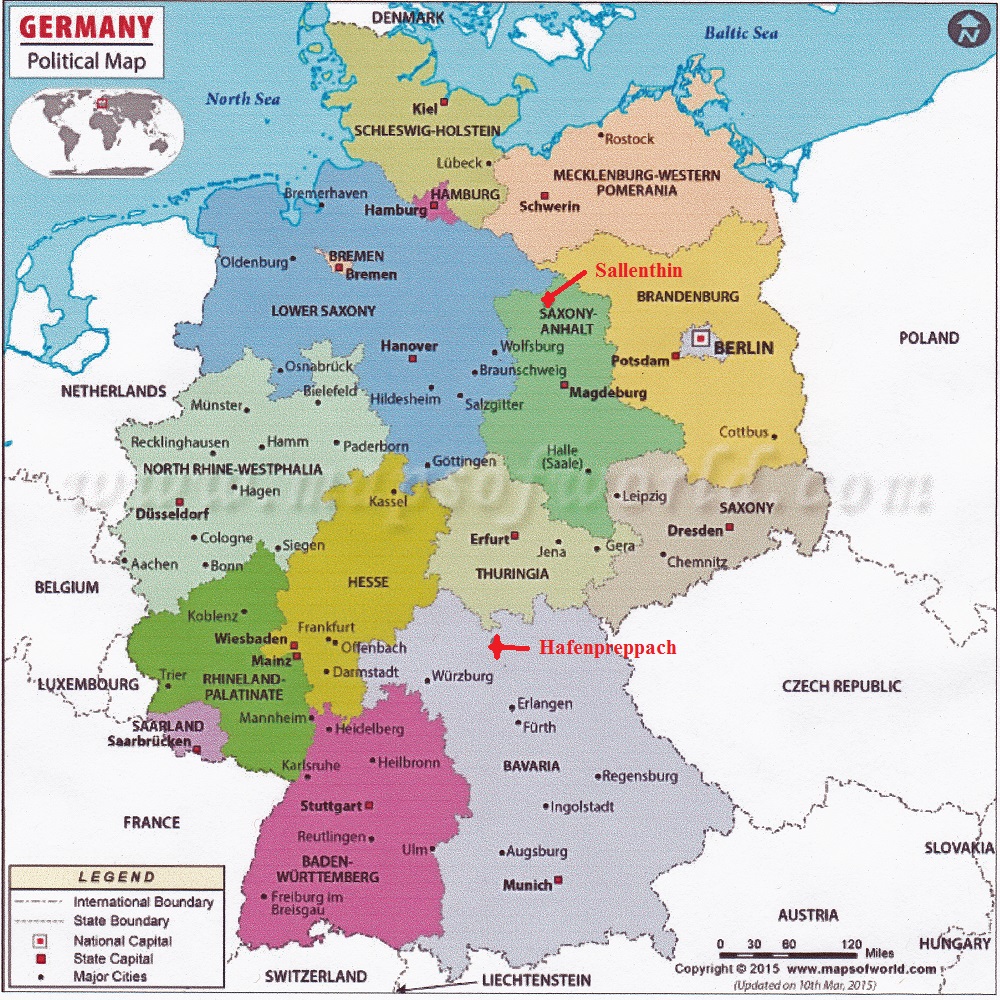 Sallenthin is located in the northernmost section of the German state of Saxony-Anhalt. It is 250 miles north of Hafenpreppach, and 100 miles west of Berlin. Hafenpreppach is located in the northernmost section of the state of Bavaria.

Albert Lau was born September 30, 1870 in Sallenthin. His parents were Charles Lau and Ida Peters, both born in Germany around 1835.

Anna Margaretha Oeckler was born May 22, 1867 in Hafenpreppach. Her parents were Johann Georg Oeckler (1822-1891) and Anna Margaretha Syrer (1837- ). Johann was born on February 7, 1822. He was 39 years old when he and Anna were married in Hafenpreppach on November 10, 1861. Anna, who was born on July 16, 1837, was 24 years old when they married. Her parents were Nikolaus Syrer and Anna Barbara Fortsch.

Johann's parents were Georg Michael Oeckler (1786-1825) and Eva Kunigunda Hofmann (1792-1850). Georg was born in Germany on October 4, 1786. Eva was born in Germany on April 30, 1792. They were married on February 18, 1816. Georg was only 38 years old when he died in Germany on June 25, 1825, three years after Johann's birth. 25 years later, when she was 58, Eva died in Germany on December 10, 1850.

Georg's parents were Johann Nickolaus Oeckler and Anna Margaretha Schlafflein. They were married in Germany on June 19, 1774. There is no record of Johann or Anna's birth, but he died in Germany on January 28, 1818 and she died in Germany on March 24, 1805.

Eva's parents were Johann Georg Hofmann and Maria Kunigunda Gunther.

Johann Georg Oeckler died in Germany on July 28, 1891, age 69.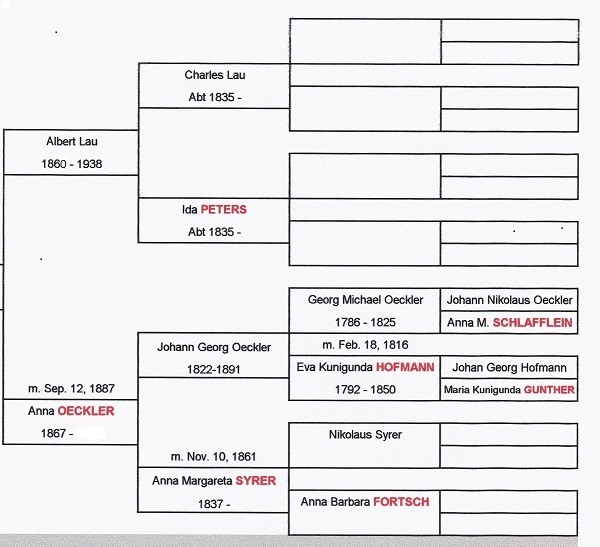 ---

---
LANZARA-LANZARO FAMILY HISTORY