S.S. FULDA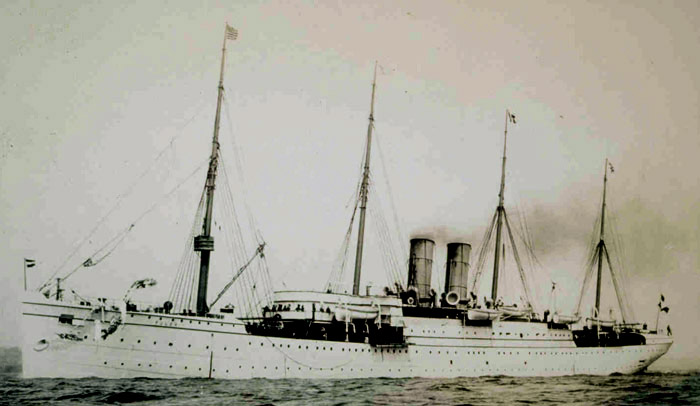 The ship that brought Petronilla and Ciro Lanzara and Carmela and Catello LaMura to America in 1893,
and Salvatore Lanzara in 1896.

The "Fulda" belonged to the North German Lloyd shipping line. She was built by John Elder & Co, Glasgow. She was a 4,816 gross ton ship, length 430 feet long, 46 feet wide, two funnels, four masts, iron construction, single screw, speed 16 knots.

Accommodation for 1,255 passengers (125 first-class, 130 second-class and 1,000 third-class).

Launched on November 15, 1882, she commenced her maiden voyage on March 14, 1883 from Bremen to Southampton and New York.

On March 14, 1886 she rescued all the passengers and crew of the Cunard vessel "Oregon" which was sunk in collision near Long Island. She started her last voyage on this run on October 7, 1891 and was transferred on October 24, 1891 to the New York – Genoa service.

Her last voyage commenced October 27, 1898 and she was chartered to the Cie Transatlantica Company for Spanish troop repatriation. On February 2, 1899 she entailed serious damage while in drydock at Birkenhead after provisional sale to the Canadian Steamship Co. The deal was abandoned and she was scrapped.








---

---
LANZARA-LANZARO FAMILY HISTORY