William M. Lanzaro Obituary

From Wikipedia, the free encyclopedia:

William McKinley Lanzaro (born c. 1937) is an American Republican Party politician who served as sheriff of Monmouth County, New Jersey from 1980 to 1995.

A son of Marlboro mayor Joseph Lanzaro, William Lanzaro grew up in Morganville, New Jersey. He attended the Marlboro Public Schools and Matawan Regional High School. He later moved to Matawan, where he went into business as the proprietor of Bill Lanzaro's Auto Sales, a Fiat dealership.

Politically, he became involved in the Matawan Borough Republican Party, eventually becoming its chairman. He ran the successful 1970 campaign of Lillian G. Burry for borough council.

In 1977, Lanzaro unsuccessfully challenged longtime Democratic incumbent sheriff Paul Kiernan. Three years later, he was again the Republican candidate for sheriff, this time defeating Kiernan for a sixth, three year term. Lanzaro, who campaigned on the issue that he would be a full-time sheriff, would go on to serve five terms himself.

Soon after taking office, Lanzaro was faced with a protest by inmates at the Monmouth County Correctional Institution who were demanding more privileges. The jail sustained some damage in the protest.

During Lanzaro's tenure, the Sheriff's Office began participating in the Ident-a-Kid program. Other reforms included the "pay or stay" sweeps, in which parents delinquent in their child support payments are arrested and held until payment is made.

By 1995, Lanzaro had had a falling out with some county Republican Party leaders, and was denied the party organization's endorsement for reelection that year. He challenged the organization-backed candidate, Joseph W. Oxley, in the Republican primary and was defeated for the Republican nomination. Afterward, he retired from political activity.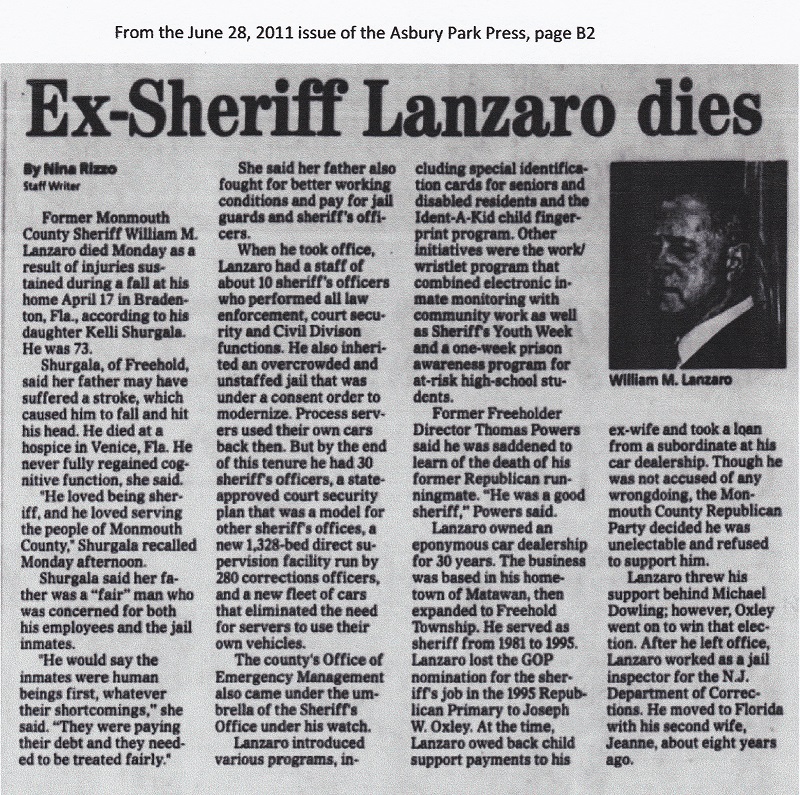 ---

---
LANZARA-LANZARO FAMILY HISTORY