Home
---
Part 1
Nocera Inferiore
---
Part 2
Castellammare di Stabia
---
Part 3 - Brooklyn
Frank & Elizabeth
----------
Giuseppe & Petronilla
----------
Ciro & Louisa
----------
Carmela & Catello LaMura
----------
Salvatore & Maria
---
Lanzara Ancestral Chart
----------
Bonifacio Ancestral Chart
----------
Lanzaro Ancestral Chart
Giuseppe
----------
Lanzaro Ancestral Chart
Francesco
----------
LaMura Ancestral Chart

---
Cemeteries
---
Causes of Death
---
Photos
---
Documents
---
Email Me
DISANTO-DURANTE FAMILY HISTORY

Last update 2/7/2020


On August 18, 1864, Jane (Jennie) Ellison was born in Dufton, England. Her parents were John Ellison and Jane Ellwood. According to cousin Wendy (Ellison), Jennie's father was born in 1825 in Colby, a village about 5 miles southwest of Dufton. He died September 28, 1903 in Dufton. Jennie's mother Jane was born in March of 1834 in Dufton. She died there on the 19th of April, 1913.

Wendy, by the way, is the great-granddaughter of Jennie's brother Thomas William Ellison (1871-1947), who left Dufton and settled in Australia.

On October 18, 1887, when she was 23 years old, Jennie arrived in New York Harbor aboard the S. S. Nevada. The Statue Of Liberty had been erected on Liberty Island only one year before.

It is a mystery how Jennie came to be in Jacksonville, Florida four years later when she gave birth to a daughter named Rose Florence Ellison on April 20, 1891. Rose's father is recorded as George Siegrist. He and Jennie were married in St. Augustine, Florida on March 26, 1891, just four weeks before Rose was born. However, Rose's surname is that of her mother. The mystery deepens. Somehow and somewhen, Jennie and Rose made their way to Matawan, New Jersey.



DiSanto


Around 1895, Jennie was married to Lorenzo DiSanto and living in Matawan, New Jersey. Lorenzo was born in San Lupo, Italy in August of 1859 (There are differing dates of birth on several documents. August 1859 is from the 1900 Federal Census). His father was Paul DiSanto; his mother's name unknown. Lorenzo was 30 (or 34) years old when he arrived in America aboard the S.S. Alesia on April 27, 1887. Like many other immigrants from San Lupo, he settled in Matawan. When he married Jennie in 1895, he was anywhere from 36 to 42 years of age, and Jennie was 31. Lorenzo found work as a flagman for the Central Jersey Railroad. It was in Matawan where four more children were born: a daughter, Pasqualine DiSanto on April 4, 1896; another daughter who died unnamed shortly after her birth on September 11, 1898; a son, George DiSanto on June 14, 1900; and another son, John DiSanto on May 21, 1905. This is all of the children that I have been able to find. However, the 1910 Federal Census states that Jennie had 10 children, of which only 4 were living in 1910.

The DiSantos lived on Gerard Avenue in the Oak Shades section of Matawan. This was near the border separating Matawan from Keyport, and within walking distance of Saint Joseph's Roman Catholic Church in Keyport, and its cemetery where many DiSantos, Durantes, and Lanzaros are buried. This area of Matawan was known as "Little Italy".

Between 1880 and 1914, more than 4 million Italians from southern Italy made their way to America. During this time, about 50 or 60 families ended up in Matawan. The community of Oak Shades, a heavily wooded area as the name implies, was located along the road between Matawan and Keyport. In addition to Italians and Poles, many African-American workers in Matawan's ceramic industry lived in Oak Shades.

Why Matawan? For one reason, this was where the jobs were for untrained laborers, particularly with the Central Railroad of New Jersey, centered in Matawan. Most of the immigrants were farmers, but unless they could afford (they couldn't) to buy a large tract of land to farm, they had to find work as simple laborers. Plus, the numerous factories, such as the tile company and the barrel company in Matawan needed unskilled laborers. (from "Precious Cargo", by Gloria Bucco).



----------------------------------


Pasqualine DiSanto married Clifford Evans at the Simpson Methodist Episcopalian Church in Perth Amboy, New Jersey on July 5, 1918. At the time, Pasqualina, who was better known as Nancy, was 22 years old and living with her parents in Oak Shades, while Clifford was a 24-year-old mechanic living at Fulton and Second Streets in Keyport, New Jersey. He was born in Keyport on March 28, 1894. His parents were Samuel Evans and Ellen Mount. He was a veteran of World War I and a member of the Odd Fellow Lodge in Keyport. Initially, the couple lived with Nancy's parents in Oak Shades.

Clifford worked as a box maker for the DuPont Powder Works in Parlin, New Jersey. After that, he was a welder. Later, he worked for the Gould & Eberhardt Company in Irvington, New Jersey. The company manufactured "modern labor-saving machine tools", such as drill presses and lathes. Clifford stood 5 feet 8 inches tall and weighed 190 pounds. He had grey eyes, brown hair, with a light complexion.

Nancy and Clifford had three sons: Lawrence Evans, born September 1, 1920; William Evans, born April 10, 1922; and George Evans, born December 8, 1923. In 1930, they were living at 633 Franklin Street in Elizabeth, New Jersey. Sometime, around 1935, the couple separated. Nancy moved with the boys to 851 Rebecca Place in Elizabeth, less than 1/2 mile from the home on Franklin Street. Clifford moved to 14 Continental Avenue in Belleville, New Jersey, about 10 miles north of Nancy and the boys.

Lawrence Evans enlisted in the Army during World War II, on August 21, 1942. He had previously worked as a semi-skilled furnaceman. He was five feet eight inches tall and weighed 160 pounds. He died on April 8, 1993 at the age of 73.

All I know about William Evans is that he died in October of 1980 at the age of 58.

George Evans worked as an electrician. He was 5 feet 3 inches tall and weighed 115 pounds. In September of 1942, he enlisted with the U. S. Army Signal Corps and served throughout World War II. At some point, he married Mildred Roach. She was born August 14, 1924. They lived in Kansas City, Missouri. In October of 1982, at the age of 58, she died. She was buried at Floral Hills Cemetery in Kansas City.

Seven years later, George married for a second time, to Angela Marie DiGiovanna in Las Vegas on October 19, 1989. Angela was born in Kansas City, Missouri on Mary 25, 1917, the daughter of Albert DiGiovanna (1860-1944) and Antonina Leonti (1878-1944). At the time of the marriage, George was 65 and Angela 72. Angela had been married before, to George A. Swenson (1920–1982).

George died in Kansas City at the age of 80 on October 15, 2004. He was buried with his first wife Mildred at Floral Hills Cemetery. Angela passed four years later on January 25, 2009. She was buried at Mount Moriah Cemetery in Kansas City. She was 91.

Clifford suffered for years from diabetes. He was still living in Belleville when he died on April 15, 1957. He was 63. He was buried at St. Joseph's cemetery in Keyport. Although he and Nancy were separated for more than 20 years, they never divorced. She died in July of 1966 at the age of 70.



----------------------------------


George DiSanto was only 18 years old and working at a munitions factory in Morgan, New Jersey during World War I when a terrible explosion killed more than 100 workers and injured hundreds of others. George was one of the wounded. He died at his home in Oak Shades one week after the blast, on October 13, 1918. The cause of death was listed as pleurisy and pneumonia. He was buried at St. Joseph's Cemetery. To read more about his death, click here



----------------------------------


John DiSanto served in the Army during World War II. At one time, he was the Chief of the Oak Shades Fire Department, Company Number 1, and a member of the Exempt Firemen's Association. As far as we know, he never married. He died in the Veterans Hospital in Lyons, New Jersey, on July 25, 1974. He was 69 years old.



----------------------------------


In June of 1922, Jennie developed a condition known as "strangulated umbilical hernia", where a bulging of some part of the intestine restricts the flow of blood through the body. She was sent to St. Peter's Hospital in New Brunswick, New Jersey on June 13 for surgery but died four days later on June 17, 1922. She was only 57 years old. She was buried at St. Joseph's Cemetery. Lorenzo continued on until May 30, 1938 when he died at the age of 81 at his daughter Rose's home in Oak Shades. Cause of death was cardiac asthma, a type of coughing or wheezing that occurs with heart failure. He was buried with Jennie at St. Joseph's cemetery.



Durante


On February 27, 1902, Lorenzo Durante arrived at Ellis Island aboard the S.S. Lahn. Like Lorenzo DiSanto and many other Italian-Americans in Matawan, Lorenzo Durante was born in San Lupo, Italy, on September 29, 1882. His parents were Luca Durante (1858- ) and Annunziata di Lorenzo (1860-1932). When he arrived in America at the age of 19, Lorenzo naturally made his way to Matawan where he found work with the Central Railroad of New Jersey. The train station was near Gerard Avenue in the Oak Shades section of Matawan, where the DiSanto family lived. It was here that Lorenzo settled. He soon began using the Americanized spelling of his name, Lawrence, in place of Lorenzo.

Sometime, around 1907, Lawrence married Rose Ellison DiSanto, the daughter of John Seigrist and Jane (Jennie) Ellison. As stated above, Rose was born in Florida. She and her mother moved to Matawan where Jennie married Lorenzo DiSanto. Lawrence and Rose would eventually have eight children. They lived on Gerard Avenue in Matawan, on the same street as the DiSantos. It was also where the DellaPietro and Centimole families lived. According to Gloria Bucco in her book "Precious Cargo", Lawrence and Rose had a big brick oven in their backyard. Once a week they would light a fire, and neighbors would bring unbaked loaves for the oven. The aroma of the baking bread would float over the entire neighborhood.



----------------------------------


Their first child, Mary Nunziata Durante, was born in Matawan on September 16, 1908. The Nunziata name was another in honor of Lawrence's mother, Annunziata di Lorenzo Durante. Mary grew up to marry John J. Centimole on July 11, 1931. John was born in Matawan on March 22, 1905, the son of Carmen (Charles) and Marie Centimole. The Centimoles lived two houses down from the Durantes and right next door to the DellaPietro family. Philomena DellaPietro (1913-1987) married Larry Lanzaro (1906-1994). Like Lorenzo DiSanto, Carmen Centimole was a flagman for the Railroad.

The wedding in 1931 took place at St. Joseph's Roman Catholic Church in Keyport before a large gathering of relatives and friends. The bride wore a dress of white taffeta with net trimmings and her veil of tulle was caught up with orange blossoms. She carried a bouquet of white roses and lillies-of-the-valley. Mary's bridesmaid was her sister Helen who wore a dress of blue net with slippers and hat to match and carried a bouquet of pink roses. The best man was Sam DellaPietro. A reception followed at the bride's parents house, after which the couple left for an automobile trip to Pennsylvania, the new bride wearing a suit of pink crepe with hat to match for the occasion.

Initially, John and Mary lived at a newly furnished home at 45 Front Street in Keyport, but eventually moved to 458 Broadway in Keyport, which was actually right around the corner from the Durantes home on Gerard Avenue, across the border in Matawan. John worked in a ceramics factory, then later for the Railroad. They had three children. The family were parishioners of St. Joseph's Church, and Mary was a member of the church's Altar-Rosary Society.

Sometime after 1940, they moved further north on Broadway to number 348, next to St. Joseph's Church, but still within walking distance of Gerard Avenue in Matawan. They were living there when Mary, age 63, died at home on June 18, 1972. She was buried at Old Tennent Cemetery in Tennent, New Jersey. Eleven years later, on June 3, 1983, 74-year-old John died. He was buried with Mary at Old Tennent Cemetery.



----------------------------------


Lawrence and Rose's second child was Helen D. Durante. She was born in Matawan on October 8, 1910. Her birth name was Nunciata, but was known as Helen. The Nunciata name was another in honor of Lawrence's mother, Annunziata di Lorenzo Durante. Helen married Charles Wichowski at St. Joseph's Church in Keyport on June 28, 1941. Charles, whose birth name was Casimir, was an ethnic Pole born in Russia on November 1, 1910, the son of Ludwick Wichowski and Josephine Kuligowski. The Wichowski family arrived from Russia in 1913 and settled in Perth Amboy along with many other Polish immigrants. Before marrying Helen, Charles was previously married and divorced.

Helen and Charles lived in Matawan and Keyport for many years. Charles was employed as a salesman in the Sears Roebuck & Company appliance department in Perth Amboy. Helen worked there as an auditor. Both were communicants of St. Joseph's Catholic Church in Keyport.

After working at Sears for more than 30 years, Charles retired in 1971. Helen retired from Sears in 1972, after working there for 27 years. They then moved to Deerfield, Florida. On July 22, 1984, Helen died there at the age of 73. Less than a year later, on April 28, 1985, Charles followed her. They were buried at the Durante family plot in St. Joseph's Cemetery in Keyport.



----------------------------------


The third child was Jennie Durante, born in 1912. For more about her, go back to the Catello Lanzaro section in the "CIRO AND LOUISA" page.



----------------------------------


On May 1, 1915, Lawrence and Rose's fourth child, Loretta I. Durante, was born. She wore braces on her legs and used crutches due to childhood polio. When she was 17 years old, she began her 40-year career as organist for St. Joseph's Church, in Keyport. She was also a communicant and member of the church's Catholic Daughters organization, and a member of the Get-Together Girls' Club of Matawan. Loretta lived first with her mother and father for many years, then with her sister and brother-in-law Helen and Charlie Wichowski, after her mother died. Loretta retired as the church organist in 1972, around the same time Helen and Charlie retired. When Charlie and Helen decided to retire to Florida, they took Loretta with them. When Helen and Charlie died in Florida in 1984 and 1985, respectively, Loretta returned to Keyport. She died on February 9, 1992 at the age of 76. She is buried in the Durante family plot at St. Joseph's Cemetery.



----------------------------------


Child number five, Antoinette M. Durante, was born January 18, 1918. That's five daughters in a row. Antoinette was known as Ann. She married Joseph L. Vecchio, a machinist by trade. Joe was born August 10, 1907, the son of Francesco Vecchio and Anna Maria Carradino. Francesco also worked for the railroad. He was born in Calabria, Italy. The Vecchio's owned and lived in a boarding house on Harrison Avenue in Matawan. By 1940, Ann and Joe were living in Paterson, New Jersey. Later, they moved to 330 Maple Avenue in Keyport, near St. Joseph's Church. Sometime later, they moved to Ohio. They were both confined to a nursing home in Loveland, Ohio when Joseph died at the age of 90 on September 1, 1997. Ann followed him one year later on October 7, 1998. She was 80.



----------------------------------


After five successive daughters, they finally had a son. Luca A. Durante, otherwise known as Luke, was born June 10, 1921. He was named after his grandfather, Luca Durante. He graduated from St. Joseph's Parochial School in Keyport around 1939 and found employment at Eisner's clothing manufacture in Red Bank, New Jersey.

On August 21, 1942 when he was 21 years old, Luke enlisted with the Marine Corps and served for three years, until the end of the war in 1945. In July of 1944, he was serving around the Marshall Islands in the Pacific, when the Marine Corps reported him missing. Several weeks later, his parents received a letter from Luke saying he was alive and recovering from a foot injury that he received during a battle. Around the same time, Lawrence and Rose received word from the War Department that Luke's younger brother George had been killed in action in France.

After the war, Luke found employment with the maintenance department of Sears Roebuck and Company in Perth Amboy, New Jersey. One of the secretaries at the Sears facility was Mathilda Vitkosky. Mathilda was born in Fords, New Jersey on June 7, 1925, the daughter of Joseph Vitkosky and Anna Lutrias. She was a graduate of St. Mary's High School in Perth Amboy. On January 25, 1948, Luke and Mathilda were married in a double ring ceremony at Our Lady Of Peace Catholic Church in Fords. The bride wore a brocaded satin gown made with a high neckline, long sleeves and a side drape. Her fingertip length veil was attached to a crown of orange blossoms and she carried a colonial bouquet of white roses and gardenias. The bride's mother wore a grey ensemble with black accessories while the groom's mother Rose was gowned in black. Each wore a corsage of red roses. Luke's father, Lawrence Durante, had died nine months before the wedding.

Mathilda's sister Anna Marie Vitkosky was her maid of honor, while Luke's younger brother, Lawrence R. Durante was best man. After the ceremony, a reception was held at the home of Mathilda's parents at 64 Douglas Street in Fords. After a brief honeymoon in New York, the newlyweds moved in with her parents. They were communicants of Our Lady Of Peace Church. Luke was a member of the church's Holy Name Society, and Mathilda the Altar Rosary Society. They had one son and two daughters. Later, Mathilda would find work with the General Cable Corporation in Perth Amboy and AT&T in Piscataway.

After working at Sears for 38 years, Luke retired in 1981. He died on March 20, 1986 at the age of 64 and was buried at Resurrection Cemetery in Piscataway. Mathilda lived on for many years. She was 88 when she passed on November 11, 2013. She is buried with Luke at Resurrection Cemetery. At the time of her death, she had 7 grandchildren and 8 great-grandchildren.



----------------------------------


The next child, their seventh, was born July 28, 1924. This was George T. Durante. Like his brother Luke, he attended St. Joseph's Parochial School in Keyport, but continued on and graduated from Matawan High School in 1941. He went to work for the Hanson-VanWinkle-Munning Company in Matawan, and later for the Central Railroad in Elizabethport, New Jersey. On July 13, 1943, he joined the Army. He received his basic training at Camp Wheeler in Georgia, and was stationed at Fort George G. Meade in Maryland before being shipped overseas in January of 1944. He served with the 23rd Infantry. He participated in the invasion of France, otherwise known as D-Day, on June 6, 1944. On July 28th, his 20th birthday, he wrote his parents that he had received an expert rifleman's medal which he was sending home.

On August 21, Lawrence and Rose received a letter from the Army that George had been reported missing since August 2. Several days later they received word that he had been killed in action. Eventually, he was buried at the American Normandy Cemetery in Colleville-sur-Mer, France.



----------------------------------


Lawrence and Rose's eighth and final child was Lawrence Richard Durante, born March 29, 1928. On October 21, 1950, he married Carmela Tomasello, the daughter of Michael Tomasello and Antoinette Penque. Like most of the Italians in this section of Matawan, Michael Tomasello was born in San Lupo, Italy. Antoinette was born in San Lorenzo, Italy. Carmela was born in Matawan on July 16, 1929.

The wedding took place at St. Joseph's Roman Catholic Church in Keyport. Lawrence's sister Loretta played the organ for the ceremony. Catherine Vecchio was the maid of honor. Alfred Cooney of Red Bank was best man. Two of the bridesmaids, Angie Li Pera, and Lawrence's cousin Minnie Durante, had to attend the ceremony dressed in other than their wedding gowns. The gowns had been ordered from a company in St. Louis and did not arrive in time for the wedding.

Following a reception at the Swanee Inn in nearby Morgan, the newlyweds honeymooned at Miami Beach in Florida. Lawrence worked at the Architectural Tiling Company in Keyport. Carmela was employed by General Cable Corporation in Perth Amboy.

Carmela and Lawrence lived at 22 Fierro Avenue in Matawan. They had one son and a daughter. Their happy marriage would be short-lived, however. Lawrence was only 26 years old when he became very ill and died on June 22, 1954, leaving Carmela alone to care for the two small children. She found employment as a secretary in the law firm of Karkus, Kanto and Burns in Keyport. Lawrence was buried in St. Joseph's Cemetery.

After some time, Carmela eventually remarried, on December 7, 1957, to Joseph W. Dzwil, who was also born (June 15, 1925) and raised in Matawan. He was the son of John and Mary Dzwil, both of whom were born in Poland. Joseph served in the Navy during World War II on the destroyer escort USS Burrows in both the Atlantic and Pacific theaters. He was awarded several medals for his achievements.

Again, the wedding took place at St. Joseph's Church and Loretta Durante was the organist. This time, however, Minnie Durante was the maid of honor. Joseph's brother, John Dzwil, was best man. The reception was held at The Family Restaurant in Matawan after which the bride and groom left for the Poconos. At the time of his marriage to Carmela, Joseph was employed at the nearby Earle Naval Ammunition Depot where he eventually became a material expediter foreman.

Carmela and Joseph had two sons.

Besides raising four children, Carmela worked for many years as a legal secretary, and later as a legal assistant in the Patent Department of AT&T in Holmdel, New Jersey. She retired from AT&T in 1995.

Joseph was 86 years old when he died on March 8, 2012. Carmela died November 8, 2016, age 87. They are buried at St. Joseph's Cemetery.



----------------------------------


Lawrence eventually retired from his job with the railroad and he and Rose continued living at 49 Gerard Avenue in Oak Shades. They were communicants of St. Joseph's church. Rose was also a member of the church's Altar and Rosary Society, a life-long member of the church's Parent-Teacher Association, a member of the Bayshore Chapter of Gold Star Mothers, and the Auxiliary of Matawan American Legion Post 176. Lawrence was a member of the church's Holy Name Society and the White Oak Camp 51, Woodmen Of The World. Their daughter Loretta lived with them.

In 1947, Lawrence, Rose and Loretta were still living at 49 Gerard Avenue when Lawrence became ill and died on April 23, 1947. The cause of death was listed as "progressive muscular atrophy causing bulbar paralysis". Basically, this was an impairment of the function of the cranial nerves caused by the development of lesions outside the brainstem. It is related to amyotrophic lateral sclerosis (ALS), also known as Lou Gehrig's disease. Lawrence was 61 years old. He was buried in the family plot at Saint Joseph's Cemetery.

According to her granddaughter, Rose Ann (Lanzaro) Keating, the construction of the New Jersey Garden State Parkway forced Rose to have her home moved to a nearby lot, but she couldn't afford it, so she and Loretta were forced to move in with Rose's daughter Helen. It broke Rose's heart to lose her home after all those years. Helen and her husband Charlie Wichowski lived nearby at 24 Orchard Street in Keyport. This was near St. Joseph's Church and behind Day Funeral Home. According to Rose Ann, Rose went to the church cemetery every day to visit Lawrence's grave. On March 7, 1963, 71-year-old Rose died. At the time of her death, she had 13 grandchildren and nine great-grandchildren. Day Funeral Home handled her funeral and she was buried with Lawrence at St. Joseph's Cemetery.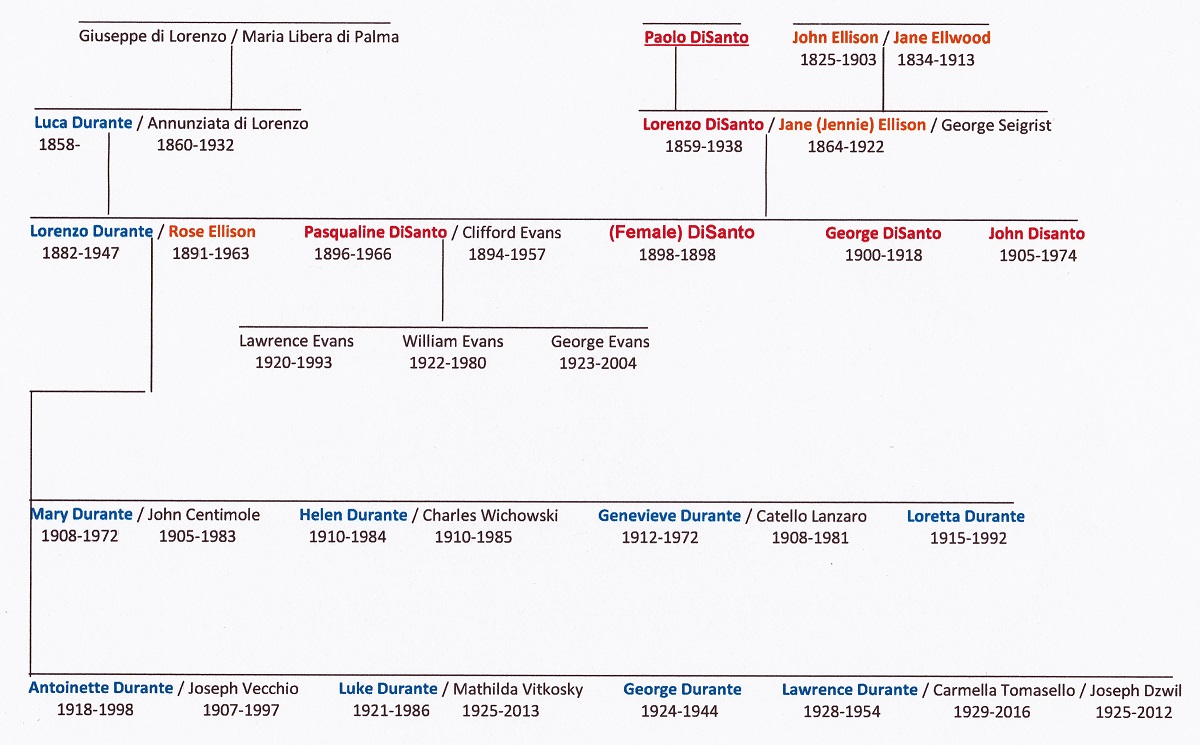 Back to the Top!
---

---
LANZARA-LANZARO FAMILY WEBPAGE