August Joseph Norry Murder





The following is an extraction of an article published on May 6, 2015 by Bob Calhoun, a San Francisco area newspaper writer.



A revelation that my mother was a suspect in one of the most brutal murders in San Francisco history sent me on a journey through lurid local lore for lost family history. My mother only talked about the murder sparingly. Her hushed tones when she did stood in sharp contrast to how she spoke of everything else.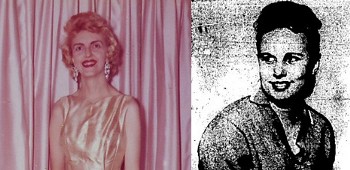 My mother, Jackie Calhoun (left), around the
time Bay Area police suspected her of a murder
committed by Rosemarie "Penny" Bjorkland (right).



The details of the murder that she gave the couple of times she talked about it were convoluted by the names of friends and acquaintances she knew before I was born. From what I remember, a friend of the family's was shot in his truck by some crazy woman he picked up somewhere. He called her either a "stupid fool" or a "stupid bitch" depending on the telling. How my mom knew this little detail didn't make sense, because the murder took place out in the suburban woods somewhere on the Bay Area peninsula. Plus, it went unsolved for months.

But there was one detail of the murder that really stuck out in my mind. My mom spoke of growing suspicion among this clique of suburbanites as the murder investigation dragged on. "You started to suspect everybody -- friends, neighbors," she said.

"You didn't know who to trust," she added. "You wondered who could've done it."

I always meant to write an article or even a novel out of all that backyard paranoia, but I never thought of asking my mom to retell the story of the murder until it was too late. She passed away in October 2009 after cancer had shrunk her down to almost nothing.

My dad, Leo Calhoun, is in good health, but he's pushing 80. I asked him about the murder while we were having lunch at a Peruvian restaurant in Redwood City.

"Do you remember this murder that my mom used to talk about?" I asked. "I think it happened back when you both lived in the Redwood City hills, or maybe it was South San Francisco. I got the impression it happened out in the woods somewhere, but not too far out there."

"August Norry," he answered, letting the victim's name hang in the air for a while before elaborating.

The murder happened when my mom and dad lived on Guttenberg Street in Daly City, not far from where I live today. My dad pronounced it "gut-ten-burg," like a punch in the gut, instead of "goo-ten-burg," like the Bible. August Norry was dumping some lawn clippings on Mount San Bruno, a hillside covered with eucalyptus trees on the southern edge of San Francisco. Norry ran into a young woman with a gun. She asked him if he was up to a little target practice. He said yes, not realizing he was the target. She shot him several times for no reason at all. My dad gave me the names and places that I didn't have before, but then he dropped a bomb.

"You know, your mother was questioned in the murder investigation," he said.

"She matched the suspect's description," he explained. "A blonde was seen leaving the scene of the murder in Norry's car. Your mother was blonde, and we lived next door to the Norrys back then".

"They were looking for someone who was having an affair with him," he added.

This was a shock to say the least. My mother never mentioned being braced by homicide dicks. I'd remember that. Anyone would remember that. I pressed my dad for more details. He didn't really have any. He came home from work one day, and my mom said that she'd been questioned for about an hour or so.

"Now when we went to Augie's memorial on Mission Street, you could see binoculars or camera lenses being poked through the blinds of the office across the street from the funeral home," my dad recalled. "They were watching everyone."

Details were now less scant, but maybe even murkier. I put my skills as a researcher and journalist to piecing together the story of the murder the way I should have when my mom was still alive. I dug through online newspaper archives, yellowing clipping files kept by local historical societies, and aging spools of microfilm in the hopes that I'd be able to figure out why my mom chose to soft pedal this story.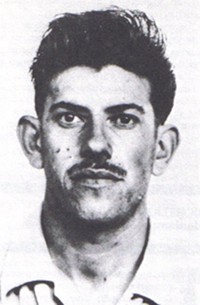 August Norry had an Errol Flynn mustache and a mess of dark, slicked-back hair in the one headshot I could find of him that kept cropping up on so many lurid crime web sites. He was a former Arthur Murray dance instructor and a onetime minor league pitching prospect.

"He had all kinds of trick pitches," my dad recalled during a later phone conversation, "but he couldn't get the major league hitters out with his fastball."

After failing in a tryout with the San Francisco Seals, Norry became a self-employed gardener mowing lawns at the Lake Merced Golf Club not far from his home in Daly City, which he shared with his new bride, the former Darlene Caldwell. On Monday, Feb. 2, 1959, Norry made the papers in the worst possible way when his "bullet-torn, blood-spattered automobile" was found "abandoned on a lonely 'lover's lane'" according to the San Mateo Times. The car was ditched on the 300 block of Peoria Street in Daly City, eight blocks from my parents' house at the time.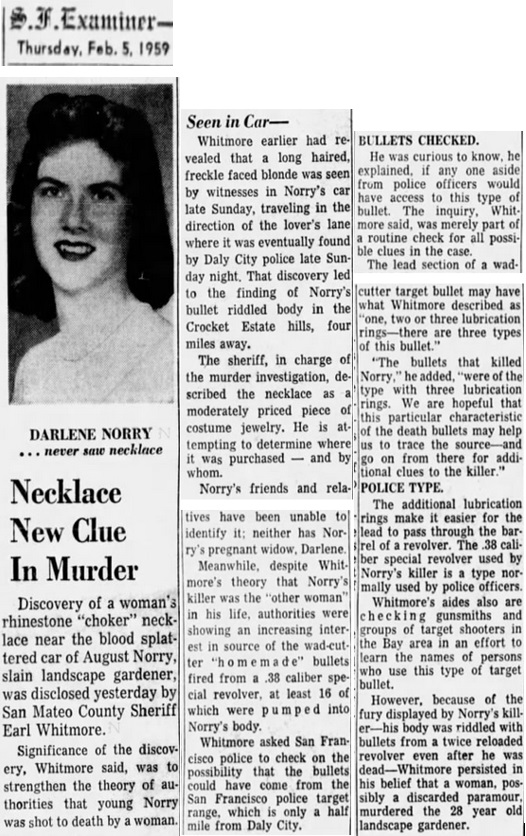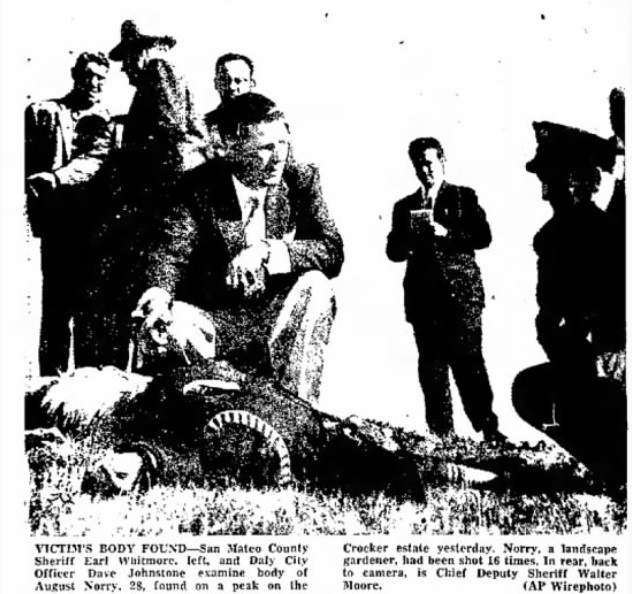 The next day, the San Mateo Times headline blared "POLICE HUNT BLONDE IN MULTIPLE SHOT MURDER" with the kind of overwhelming typeface usually reserved for things like the bombing of Pearl Harbor. Crowding the paper's masthead into a corner was a gruesome photo of Norry's corpse lying in a patch of weeds on the downward slope of Mount San Bruno. A bullet wound is clearly visible in Norry's cheek even with the low-resolution reproduction. In the lower, right-hand corner, way below the fold, a much smaller cover-line reads, "Trio of Rock 'N' Roll Fame Die in Crash." August Norry almost pushed the deaths of Buddy Holly, Richie Valens, and the Big Bopper -- the day the music died -- to page five.

Norry was shot 18 times with a .38 Special, a six-shooter. That means the killer emptied the revolver once, reloaded, kept going, and reloaded again. A "good-looking blonde" driving a car that looked like Norry's almost ran over a 12-year old kid playing on the hillside on the day of the shooting. "We have information that there was another woman involved in Norry's life," San Mateo County Sheriff Earl Whitmore told reporters. Whitmore added that "the blonde woman might be married," and there was the "remote possibility" that "Norry was slain by an avenging husband." While the eyewitness description led the police to my mother, they were also figuring my dad for the crime.

Norry was murdered on Sunday, and found on Monday. On Tuesday, Sheriff Whitmore and Daly City police questioned Darlene Norry for several hours. Augie was 28. Darlene was 20. They had been married for only 18 months. The couple was expecting their first child. Police inspectors found a paperback on child rearing titled The First Year of Life in the back seat of Norry's blood-soaked sedan. The whole thing was incredibly sad.

Sheriff's Inspectors Eugene Stewart and William Ridenour continued the search for the blonde "revenge slayer." On Wednesday, Feb. 4, 1959, they questioned a 19-year-old blonde waitress who "was found drunk in a Daly City residence that wasn't her own." This was old-timey newspaper code for slut. They cleared the drunken waitress and then questioned more blondes. One of those blondes was Jacqueline Faye Calhoun, age 24. Ten years later, she'd be my mother.

The wood-shingled house on Guttenberg Street where my mother was interrogated straddles the border between the Daly City suburbs and San Francisco's Crocker-Amazon neighborhood. A block away, Guttenberg dead-ends at the slopes of the mountain where Norry became a human target. Up the street from my parents lived Charles and Rose Norry, August's parents, at 369 Guttenberg Street. Charles Norry was a hard-looking man with an uneven bowl haircut. He was a union beer bottler and coach of the minor league baseball team that August pitched for. My dad was a batboy with the team in the 1940s, and even traveled with the team for a game at San Quentin. My mother's younger brother, Dan Williams, briefly dated the woman who would later marry Bob Norry, August's younger brother. The histories of my family and the Norrys were once totally intertwined.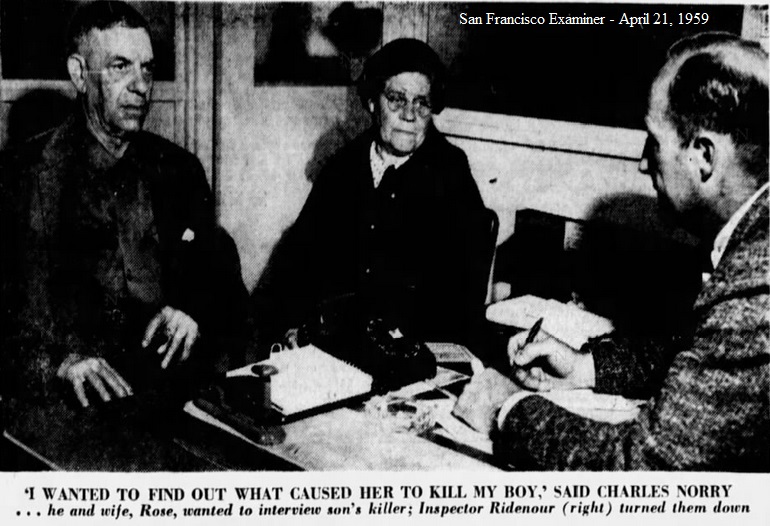 The murder investigation dragged on for six weeks. My mom always made it sound like six months because that's probably what it felt like. The killer was finally revealed through more banner headlines on April 16, 1959. Her name was Rosemarie Diane Bjorkland. Her friends called her Penny. She was 18 and blonde. She lived in her parents' house on Oliver Street in Daly City, four blocks parallel to the houses on Guttenberg Street. The inspectors probably passed by her block on their way to grill my mother.

The sheriffs were able to track her through these cheap, homemade bullets she used called wadcutters. She bought them from an auto mechanic out in Colma, the Bay Area's suburban necropolis where San Francisco buries its dead. The mechanic tried to tell the cops that a box of bullets was stolen out of his car. The cops leaned on him. His story fell apart. He gave up Penny. She was arrested on April 14th, a Tuesday. Sheriff Whitmore sweet-talked a confession out of her at "a quiet family restaurant" in San Carlos called the Doll House. Penny had the meatloaf with strawberry shortcake for desert.

"For about a year, or a year and a half, I've had the urge to kill someone," she said. "I wanted to see if I could commit a murder and not have it on my conscience."

She could.

"I've felt better ever since I killed him," she confessed. "It's like a burden has been lifted off of me."

The papers dubbed her with names worthy of a pulp fiction villain. She was the Urge Killer or the Blonde Murderess. The wire story was strange enough to get picked up by papers as far away as Mobley, Mo. and Pottstown, Pa. The San Francisco Chronicle devoted nearly a full page spread to a celebrity-style profile of Bjorkland with glamor shots flanked by lingerie ads. The Times Tribune out of Palo Alto called her "plump and pretty."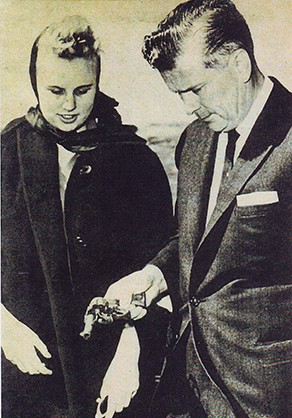 Sometime after her confession, law enforcement officials drove Bjorkland to the same hillside where she obliterated Norry so she could reenact the crime. Inspector Stewart filmed her as she pretended to shoot an imaginary version of Norry's corpse. According to several newspaper accounts, Bjorkland told sheriffs that Norry called her a "stupid fool" after she pumped the first shot into his gut, although the Examiner quoted her as saying, "stupid ___ " (sic), giving validity to both of my mom's versions of events.

Bjorkland hadn't arranged to meet with Norry on the day of the murder, but they did know each other. About a month before the murder, Penny found Norry dumping lawn clippings on the hill where she later killed him. He took her to a drive-thru burger joint before driving her home. She gave him her phone number. He never called her. Norry didn't try anything with Penny both times he met her, but he was playing it real close to the line.




After months of generating headlines as she awaited trial, Rosemarie "Penny" Bjorkland was found guilty of first-degree murder and sentenced to life in prison on August 6, 1959. "This was a willful, wanton killing," Superior Court Judge Frank B. Blum declared. Bjorkland served just seven years of her sentence before being released and fading into obscurity. At 25-years-old, she was still pretty young. Somebody probably married her. A public figure page on Facebook (that likely isn't maintained by her) has 66 likes with people leaving comments on how they'd love to meet her.



____________________________________________________________________




From another news source:



Bjorkland described herself as a normal, average girl, but her co-workers described her as a knife-carrying lone wolf who ate her lunch by herself at her job at Periodical Publishers Service Bureau in San Francisco.

Bjorkland wouldn't talk to mental health specialists or a priest. She never cried or showed any emotion while incarcerated or in front of the judge. She told police matron Maxine Stooksbury that she hated her parents because they made her go to church.

Bjorkland's parents scrambled to find an attorney to represent their daughter. They were willing to mortgage their home to pay for legal fees. When Penny found out about her parent's anguish, she replied coldly. "They had nothing to do with it. I guess this does affect them, but that's not my concern."

Joseph Murray, the attorney that the heartbroken Bjorkland's hired was dumbfounded by Penny's detached demeanor and unwillingness to change her story to help herself. Murray tried the usual juristic tricks to save his client, but Penny would have nothing to do with them, or with him. A dozen psychologists, including experts in experimental fields of psychology from Bay Area universities, were called in by both sides and had generally agreed that there was nothing psychologically wrong with Penny Bjorkland.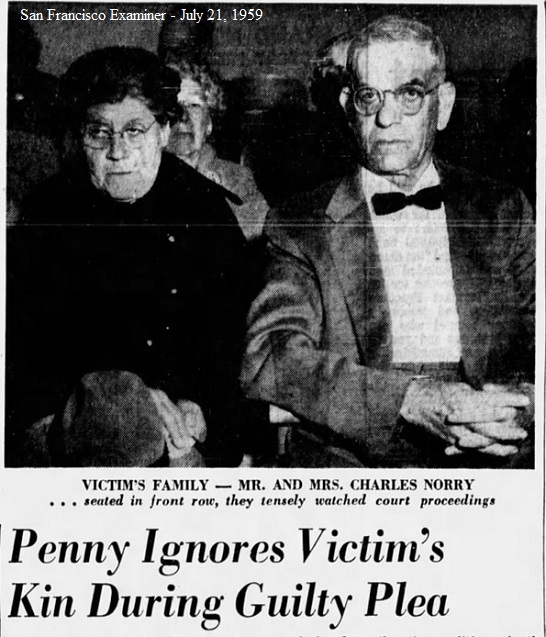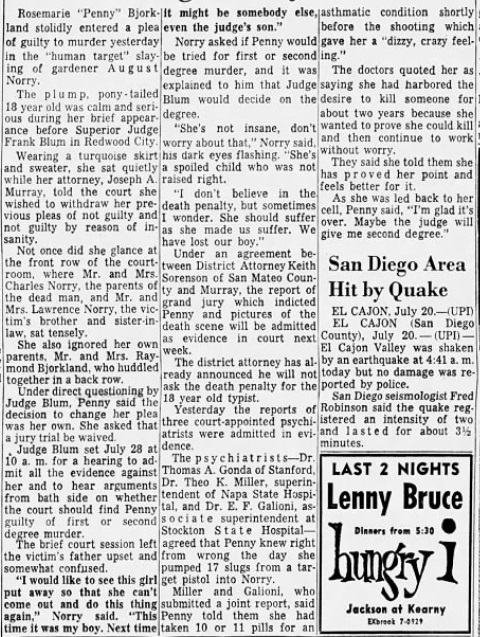 On July 20, 1959, Rosemarie "Penny" Bjorkland pled guilty to Second Degree Murder and threw herself on the mercy of the court. South San Francisco Municipal Judge Charles Becker sentenced Penny to life in prison, but made her eligible for parole in seven years.

Darlene Norry gave birth to daughter Cynthia on September 17, 1959. The widow was so upset with the intrusive visits from the police that she had gone to stay with an aunt in Santa Rosa to finish out her pregnancy. She didn't know about Bjorkman's arrest until she was informed by a relative and was stunned that she and her family were still being relentlessly and rudely interrogated by various law enforcement agencies when they were already onto Bjorkland.

"They were around to insult me just before the caught her," exclaimed a rightfully angry Darlene Norry. "That is the reason I had to get away for a while."

There is no record of when Penny Bjorkland was released from the California State Prison for Women at Corona, but it is believed that she was paroled in the mid 1960's. Cynthia Norry would have been in grade school by then and never knew her father.



____________________________________________________________________




From SFgate.com Senior Digital Manager Katie Dowd, posted in 2019:


Following her arrest, Penny started confessing to the county jail matron.

"For about a year and a half I've had the urge to kill someone," Penny said. "I'll admit that the motive sounds crazy. But I wanted to know if a person could commit a crime like this and not worry about police looking for her and have it on her conscience."

"I've felt better ever since I killed him."

Penny said she put the remaining bullets into a street drain outside of her house; they were found there the next morning. The gun, filched from a friend two weeks before the crime, was discovered in a drain at Camellia and Castle Manor avenues in San Francisco, just where she said she'd left it.

"I used to go up in the hills and point my pistol at a target and pretend it was a human," she mused. One day in February, Penny decided she was tired of pretending. She knew Norry from her jaunts in the hills; he dumped lawn clippings there and once gave her a ride home. She asked him for another ride.

Chewing gum to hide her nerves, she said she stepped out of the car, turned and fired five bullets into him. She reloaded and fired again from the driver's side. Then for good measure, she shot him a few more times.

On May 2, she gave a jailhouse interview to the San Francisco Chronicle. Although she was cagey about her exact motives - she repeatedly alluded to something her mother had done five years ago - it was clear she harbored intense animosity toward her parents.

"All I can think of is hatred toward my family," she declared. "I'm just going to sit in court hating them."

This must have been distressing information for her parents, who regularly attended her hearings, often with red-rimmed eyes from weeping.

Penny also denied that she was mentally ill. "I know I'm morally responsible," she said. "But something immoral made me pull the trigger."

When the strange interview was over, she got up and cheerfully bade the reporter farewell.

"Bye now," she said breezily. "Let me know if any of this gets in the paper."

Penny was sent to the Women's Prison in Corona. She didn't stay for long. In September, she convinced the doctors there she was "very disturbed." They transferred her to Patton State Hospital, a psychiatric hospital in San Bernardino.

Once there, she immediately told the staff she wasn't crazy after all. She'd pretended in order to prove her innocence - she couldn't be guilty by reason of insanity if she wasn't insane.

"She is a strange one," the Patton superintendent told The Chronicle. "She freely admitted to our psychiatric staff that she had lied to the psychiatrists at Corona in order to be transferred over here. She was quite convinced that once we had found her sane we would let her go free."

She was more immature than mentally disturbed, the superintendent said. He sent her back to Corona.

Here, the story comes to an unsatisfying end. Penny disappears from newspaper stories and the public eye after 1959. It's likely she received parole in the mid-1960s and, if her disappearance from public records is any indication, she may have changed her name.

Logic would also dictate that Penny probably left the Bay Area for good.

One psychiatrist who testified during her trial said she actually liked jail. It kept her away from her family.



____________________________________________________________________


After Cynthia's birth in 1959, Darlene Norry remarried, to Terry Ferguson, on August 3, 1960. They had two daughters of their own and lived together until Terry's death on December 8, 2014.









---

---
LANZARA-LANZARO FAMILY HISTORY