Linda Ann LaMura
(1953)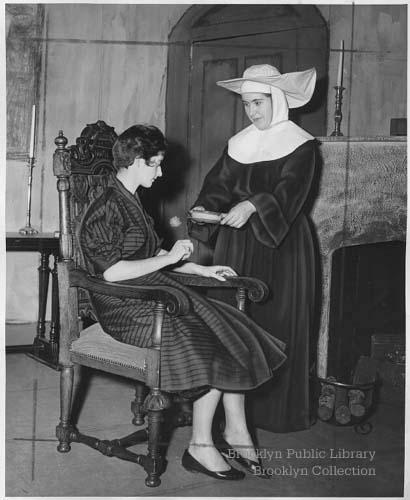 From the Brooklyn Public Library, Brooklyn Collection.



Caption: "Drama at Packer--Leading roles in 'High Ground,' which was presented last night by Junior College seniors at Packer Collegiate Institute, 170 Joralemon St., were performed by Pat Malley, left, of 146 Wakeman Place, and Linda LaMura [dressed as a nun] of 248 Henry St., which in a scene from the Broadway play, in which a nun in an English convent uncovers a murderer and saves an innocent person from the gallows."



On verso: date stamped: Dec. 5, 1953; Brooklyn Eagle stamp.














---

---
LANZARA-LANZARO FAMILY HISTORY