The Holy Cross Cemetery Grave of
Elizabeth, John and Josephine Lanzaro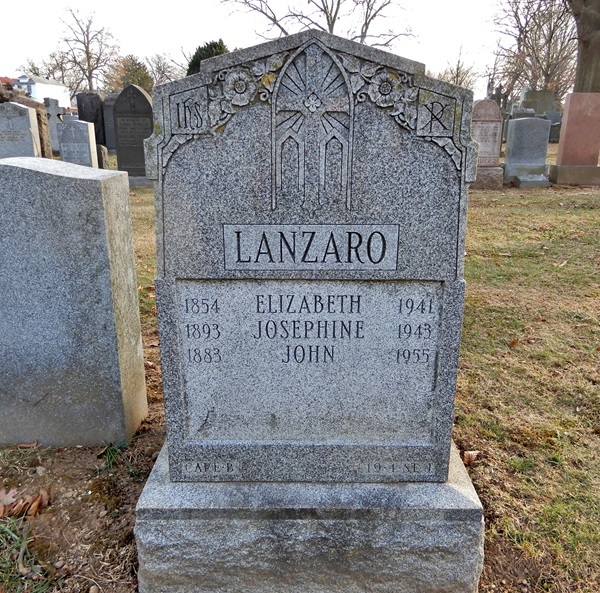 Photo taken November 2006

Located in the St. Joseph section of the cemetery, in Region Rg-4, plot 19.







Elizabeth Bonifacio Lanzaro (1851-1941), her son John Lanzaro (1882-1955) and his wife Josephine Cucurullo Lanzaro (1893-1943) are buried here. The headstone says Elizabeth was born 1854, not 1851. I have different dates from different sources. John's birth record shows his birth in 1882, not 1883.

There are also four children buried here: Francisco Lanzaro, son of Jim and Eve Lanzaro, died January 19, 1917, age 1 month; Grace Desiano, daughter of Vito Desiano and Mary Lanzaro, died September 28, 1920, age 6 years; Salvatore DeGennaro, son of Louis DeGennaro and Anna Lanzaro, died August 2, 1923, age 11 months; and Elizabeth DeGennaro, daughter of Louis DeGennaro and Anna Lanzaro, died February 28, 1931, age 3 years.









---

---
LANZARA-LANZARO FAMILY HISTORY