Home
---
Part 1
Nocera Inferiore
---
Part 2
Castellammare di Stabia
---
Part 3 - Brooklyn
Frank & Elizabeth
----------
Giuseppe & Petronilla
----------
Ciro & Louisa
----------
Carmela & Catello LaMura
----------
Salvatore & Maria
---
Lanzara Ancestral Chart
----------
Bonifacio Ancestral Chart
----------
Lanzaro Ancestral Chart
Giuseppe
----------
Lanzaro Ancestral Chart
Francesco
----------
LaMura Ancestral Chart

---
Cemeteries
---
Causes of Death
---
Photos
---
Documents
---
Email Me
BLANCK FAMILY HISTORY

Last update 8/26/2020

EUGENE BLANCK and EMMA BEHRENS


Eugene Blanck was born in Alsace-Lorraine in April of 1858. His parents were Johann Baptiste Blanck and Sophia Clara Krugell. Although Alsace-Lorraine is located in present-day France, it has shifted back and forth between France and Germany. When Eugene was born in 1858, it belonged to France. When his younger brother Ernest was born in 1873, it belonged to Germany. Regardless of which country ruled them, the people of Alsace-Lorraine spoke predominately German.

Emma Behrens was born in Luxembourg, Germany in April of 1860. Her parents were Otto Behrens and Agate Zaudar. Today, Luxembourg is an independent nation. But, in 1860, it was part of the German Empire.

For more information on Alsace-Lorraine and Luxembourg, click here.

Eugene and Emma emigrated from Germany to America in 1881. Although they arrived in the same year, I have no evidence that they did so together. They were married in Manhattan, New York on August 22, 1881. They had three children. Leona Blanck was born in Brooklyn on September 29, 1890. Her brother, Otto Jean Blanck, was born November 10, 1891. There was a third child, but I've been unable to find anything about him or her. By 1900, the child was no longer around.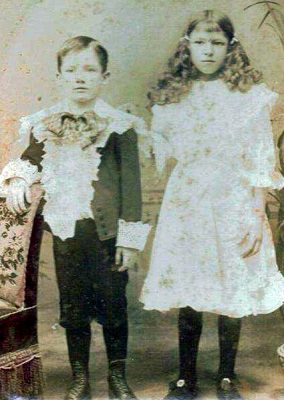 Otto and Leona Blanck, circa 1895


By 1900, Eugene and Emma were living in an apartment in Brooklyn at 993A DeKalb Avenue, a building that no longer exists, even in 1940. Living with them, at the time, were 10-year-old Leona, 8-year-old Otto, and Eugene's 27-year-old younger brother Ernest Blanck. Eugene was working as a foreman in a Cork factory. Then began a series of relocations around the city. In 1905, they moved two miles west to 168 Clermont Avenue.




ERNEST BLANCK and MARGARET BRITT


Eugene's younger brother, Ernest Francis Blanck, born in Alsace-Lorraine on March 8, 1873, arrived in America in 1890. Ernest worked as an "engineer" for a licorice company. He was short and stout, with blue eyes. He married Margaret Clara Britt. She was born in New York in 1878. Her parents were born in Ireland. Margaret and Ernest were married on June 28, 1908, when he was 35 and she was 30. They lived at 312 Jefferson Street in Brooklyn. They had one child that I know of, Florence Margaret Blanck, born in New York on September 26, 1909.

By 1930, Ernest and Margaret were living at 7763 79th Street in Glendale, Queens. Ernest was 59 years old when he died from heart disease on March 3, 1932. At the time, Margaret was only 53 years old and Florence 22. Ernest was buried at St. John's Cemetery in Queens.

In 1937, Florence married John F. Fischer. They had two sons: John Ernest Fischer and Eugene Charles Fischer.

Margaret died on January 26, 1956 at the age of 77. She is buried with Ernest at St. John's Cemetery.

Florence and John moved to Annapolis, Maryland in 1970. After John's death in 1983, Florence moved to nearby Stevensville, Maryland. She was a member of the Hillsmere Garden Club. She was also an active member of St. Christopher's Catholic church, the church choir, and the Queen Anne's Chorale. She was 82 years old when she died, at Anne Arundel Medical Center, in Annapolis. She and John are buried with Ernest and Margaret in St. John's Cemetery.



OTTO BLANCK and MARIE POOLE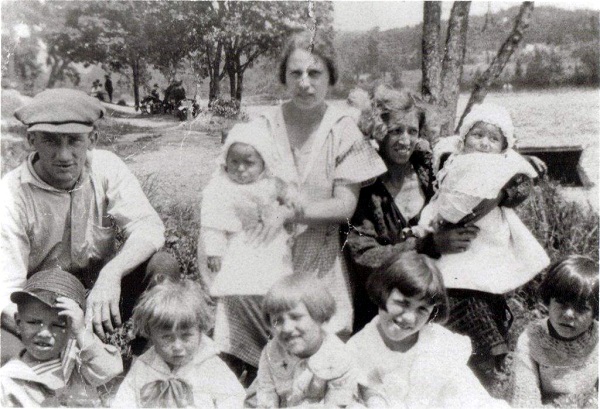 That's Otto J. Blanck on the left, then his wife Marie (Poole), and Otto's sister Leona LaMura. Since the two babies held by Marie and Leona appear to be the same age, we have guessed that they are Leona's twins, Richie and Frankie. If so, then this photo was taken around 1923. By then Leona had two older children: Carmela (1918) and Joe (1920). Otto and Marie had three children: Dorothy (1914), Gertrude (1919), and Eugene (1920). A consensus of opinion leads us to believe that the children in the front row are, left to right, Eugene, Joe, Gertrude, Dorothy, and Carmela. Otto and Marie lived in the town of Pompton Lakes, New Jersey, where this photo was taken.

Leona's brother Otto married Marie Poole on March 15, 1914. Marie was born in Brooklyn on August 1, 1894. Her parents were Joseph H. Poole and Helena Zior. At first, Otto and Marie lived at 159 Wyckoff Avenue in Brooklyn where Otto worked as a grocery clerk. He was 5'2" tall, of medium build, with green eyes and brown hair. By 1917, he was working in Haskell, New Jersey, where he was a powder worker for the E. I. Dupont Company that was producing smokeless powder for U.S. Allies during World War I. Haskell, as it turns out, is a few miles north of Pompton Lakes, New Jersey, where Otto and Marie would evntually move to.

Otto and Marie had three children: Dorothy Blanck, born in New York on December 17, 1914; Gertrude Blanck, born in New York in 1919; and Eugene Charles "Gene" Blanck, born in Haskell on January 11, 1920.

As far as I know, Dorothy never married. She died in Pompton Lakes on December 9, 1985 at the age of 71.

I have found very little about Florence. I don't know if she ever married, or where or when she died.



GENE BLANCK and LOTTIE DAVIS


Gene was 5' 10" tall, weighed 145 pounds with brown hair and eyes. He joined the Marine Corps during World War II and served for the entire war, including 29 months on Guadalcanal. At some point after his discharge from the Marines in 1945, Gene moved to Pensacola, Florida. He was a professional umpire for two years, and employed by Hygeia Coca-Cola in Pensacola for 35 years. He was a member of the National Exchange Club and was a charter member of the Summit Park United Methodist Church.

Gene married Lottie Oleane Davis around 1946. She was born July 19, 1926 in a small town in Alabama with the terse name of Black. Lottie had two sisters: Jerry Davis, married to Boots Etheridge; and Jeanette Davis, married to Jack Walker. Lottie worked for the Elebash Jewelry Company in Pensacola for 35 years. Like her husband, she was a charter member of the Summit Park United Methodist Church.

Gene and Lottie had three children: Eugene Charles "Charlie" Blanck, Jr.; Gerald "Gerry" Davis Blanck; and Stanley Vernon Blanck.



--------------------------------------------------------------------


Charlie Blanck was born on May 20, 1952 and raised in Pensacola, Florida. He obtained his undergraduate and medical degree at the University of Florida and later completed his residency at the University of Arizona. He was a doctor of internal medicine and worked at the Veterans Affairs Medical Center in Tucson, before working at Kino Community Hospital and then starting a private practice in Tucson. He and his wife Jeanette had two sons: Christopher Blanck and Connor Blanck.

While he struggled with alcohol and painkillers in the 90s, Charlie sought out help in 1997 and was sober until he passed away from surgical complications from cancer in 2005. According to his son Connor, Charlie was well known for being an incredibly generous and loving person. He often gave free medical care to people that could not afford it, which meant Connor and his family had a lot of handmade gifts at their home from patients who wanted to thank him for his generosity. Connor remembers there being a long line of patients his father had treated who came to pay respects at his funeral. He died in Tucson, Arizona on June 11, 2005 at the age of 53.



--------------------------------------------------------------------


Gerry Blanck is actually a semi-famous former kickboxer who used to work on training actors in films and now runs a martial arts school in California. He became interested in martial arts at the age of 14. He started training in Yoshukai karate at the age of 18 under 7th degree black belt Mike Foster and 5th degree black belt Bob Bunning. Gerry received his brown belt under them while in college. He received his black belt in 1977 under 6th degree black belt Hiroaki Toyama and under Master Yuki Koda. Later he began training in kickboxing.

One year later Gerry had his first match and won and later became the #1 contender in his weight class. In 1982 he dreamed of fighting for the World Title and opened a dojo in the Pacific Palisades. In 1983 Gerry won the titles of World Karate Association Super Featherweight Champion and International Kickboxing Association Junior-Lightweight Champion.

Gerry retired from his pro career in 1985, with a record of 23-2, including 12 knockouts. He teaches at his dojo and is the West Coast Director of Yoshukai Karate. In 1999 he received the Ryu-Ken Award which recognizes the U.S. Yoshukai Karate Instructor of the Year. Gerry Blanck's Martial Arts Center was also picked as school of the month in Black Belt Magazine, October 1992. Gerry has been featured on numerous TV shows, such as Entertainment Tonight, Extra, Eye On LA, Baywatch, and Dancing With the Stars. He has also trained many celebrities and athletes and has, himself, appeared in martial arts movies, such as Black Belt and Full Contact.

His website is here. Check out the photos.



--------------------------------------------------------------------


Stanley Blanck lives in Mobile, Alabama and works as a producer at their local NBC affiliate WPMI news.



--------------------------------------------------------------------


Gene died in Pensacola on April 10, 2000 when he was 80 years old. He was buried at Bayview Memorial Park in Pensacola. Lottie died a year after Gene on February 16, 2001, at the age of 74. She is buried with Gene at Bayview Memorial Park.




By 1935, Otto and Marie were living at 216 Van Avenue in Pompton Lakes, New Jersey. Pompton Lakes was about two miles south of Haskell, which had become mostly a ghost town during the start of the Great Depression. Otto was working as a superintendent for the Colonial Theater in Pompton Lakes. Marie was a practical nurse. She was also a member of the Pompton Lakes Order of the Eastern Star, a Masonic unit open to both men and women. On December 21, 1955, Marie was Christmas shopping at a department store in nearby Paterson when she suffered a stroke and died a few hours later at the hospital. She was 61 years old. She was buried at the Pompton Reformed Church Cemetery in Pompton Lakes. Otto died on November 18, 1968 in Pompton Lakes at the age of 77. He is buried with Marie. Dorothy never married. She was a weaver at the Arrow Company in nearby Little Falls and a member of the Pompton Reformed Church. She was 70 years old when she died in Pompton Lakes on December 9, 1985. She is buried near Otto and Marie. I have not been able to find any further information on Gertrude.





Emma Blanck was living with her daughter Leona when she died on July 18, 1917 at St. Mary's Hospital in Brooklyn. She was 57 years old. Leona was married to and living with her second husband, Joe LaMura, at 100 Stockton Street in Brooklyn. Also living with them were Leona's children from her first marriage, Fred and Victor Wenzel, plus Joe and Leona's daughter, 2-year-old Carmella LaMura, and their 3-month-old son Joseph LaMura, Jr. Emma died from an infected ulcer (Pyemia). She was buried in an unmarked grave at Holy Cross Cemetery in Brooklyn. Thirteen years later, thirteen-year-old Adolph Nori Jr. succumbed to tuberculosis and was buried in the same plot. Loretta Silano LaMura, the young wife of Michael LaMura, died a year and a half after their marriage, on July 27, 1934, while giving birth to their daughter, Marie. She was buried with Emma and Adolph, and a marker was placed on the grave for her.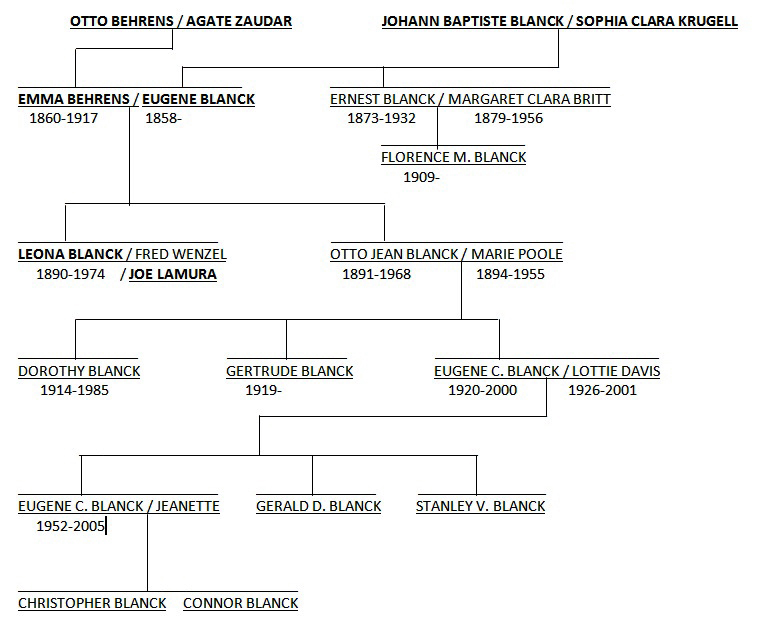 Back to the Top!
---

---
LANZARA-LANZARO FAMILY WEBPAGE